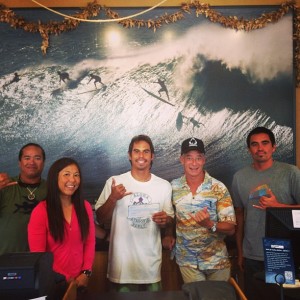 By Staff Reports
(Oahu)—based nonprofit organization Sustainable Coastlines Hawaii (SCH) just announced receipt of a $5,000 grant donation from outdoor clothing manufacturer Patagonia.
The SCH team will dedicate the Patagonia grant funds to activities that help them continue their mission of "inspiring local communities to care for their coastlines through hands-on beach cleanups." Executive Director Kahi Pacarro expressed his gratitude: "On behalf of our team of 13 core crew members and our thousands of volunteers, we extend sincere appreciation for the generous donation from Patagonia, a company that we feel has served as a model for social responsibility. We plan to expand our efforts with new resources that allow us to host bigger cleanups that are more efficient and productive. We also look forward to refining our outreach by developing creative marine debris presentations for all age groups."
Celeste Yamanaka, Honolulu Store Manager, commented on the company's decision: "We know Sustainable Coastlines Hawaii's hands-on Beach Cleanups, Workshops, and Steward-Creating Team will inspire and educate our communities about what kind of Marine Debris are washing up on our Hawaii shores. We look forward to working with and supporting them!" This past April 20th, in celebration of Earth Day, Sustainable Coastlines Hawaii hosted the largest beach cleanup in Hawaii's history, with over 1,0000 participants pulling 5,000 lbs. of trash off the beaches. This summer, the team is organizing a massive cleanup of the South Shore and paddling out in various watercrafts to collect recyclables during the July 4th Flotilla in Waikiki.
About Patagonia
Patagonia, Inc., based in Ventura, California, is a leading designer of core outdoor, surf and sportrelated apparel, equipment, footwear and accessories. With sales last year of $414M, the company is noted internationally for its commitment to authentic product quality and environmental activism, contributing over $43M in cash and in-kind donations to date. Incorporating environmental responsibility into product development, the company has, since 1996, used only organically grown cotton in its clothing line. Committed to making its products landfill-free, the company's entire product line is recyclable thorough its Common Threads Initiative. The company also advocates corporate transparency through its interactive website, The Footprint Chronicles, which outlines the environmental and social footprint of individual products. Patagonia was featured as The Coolest Company on the Planet on Fortune Magazine's April 2007 cover.
About Sustainable Coastlines Hawaii
Sustainable Coastlines Hawaii is a registered 501(c)(3) non-profit organization with the mission of "Inspiring local communities to care for their coastlines." With help from more than 5,079 volunteers, the team has fostered the collection of over 36,234 pounds of waste to date. For more information visit SustainableCoastlinesHawaii.org.