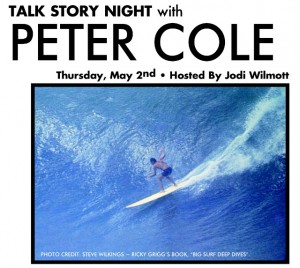 By Staff Reports
(North Shore)–One of the North Shore's great living treasures and original watermen – lifeguard, paddler, swimmer, surfer.
A true big wave pioneer of the late '50s and '60s, he won the Makaha International surfing contest in 1958, regarded as the "world title" of its time.
More impressive than his competitive record is the fact that he remains an active and respected surfer well into his golden years.
A Stanford graduate who moved from California to Hawaii in 1958
to test his surfing mettle, Peter taught Math at Punahou, where future famous surfers Gerry Lopez and Jeff Hakman were among his students. He later served as an operations research analyst for the Navy Civil Service, but time in the ocean remained central to his lifestyle.
Doors open at 6pm. Presentation at 8pm.
Door donation of $5 goes to a local non-profit/education group selected by the Speaker.
Located at Turtle Bay Resort. Open 7 days a week.
Visit SurferTheBar.com to learn more.