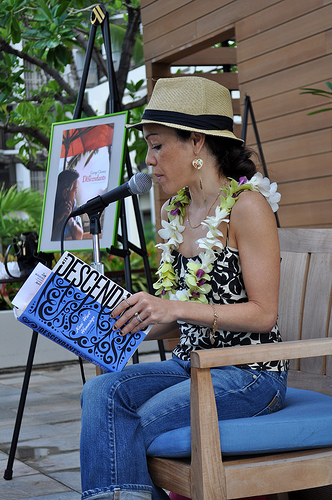 By Melanie Gonzalez
Managing Editor
(Waikiki)–The sun was shinning and the ocean breeze blowing as author Kaui Hart Hemmings read excerpts from her novel "The Descendants" this past Friday at the Waikiki Beach Marriott Resort & Spa.
Her novel about an unconventional family forced to come together and recreate its own legacy was made a movie and won this year's Oscar for Best Adapted Screenplay.
It was an intimate setting on the patio near the pool of the resort where approximately 15 fans gathered to hear the readings.
Kaui fielded questions from the audience about her writing style, working with George Clooney and the soundtrack from the movie. Kaui stated, "The soundtrack was authentic, moving and just right for this movie, just thinking and talking about it now gives me chills."