By Staff Reports
(Oahu)– The Hawaii Foodbank and Food Drive Sponsors First Hawaiian Bank, Hawaii News Now, KSSK and the Honolulu Star Advertiser will be in communities across the state collecting dollars and food for the Hawaii Foodbank 27th Annual Food Drive. The goal: to raise food and dollars to provide One Million Meals to feed the needy in Hawaii.
The Hawaii Foodbank and its network of over 200 agencies helps feed 1 in 5 people statewide each year including over 47,894 children and over 46,000 elderly.
Please support a Food Drive collection site in your neighborhood on Saturday, April 16 by donating the Top Most Needed Foods: Canned meats, canned meals (spaghetti, beef stew), canned fruits, canned vegetables and rice.
Monetary donations are also needed. Your $10 donation will distribute food for 25 meals to the hungry. Donate your time by volunteering at a Food Drive collection site in your community. Please visit www.hawaiifoodbank.org to register online or download an application. For more information, please email volunteer@hawaiifoodbank.org.
WHO: The Hawaii Foodbank
WHAT: The Hawaii Foodbank 27th Annual Food Drive
WHEN: Saturday, April 16
8:00 a.m.to 3:00 p.m. on Oahu
9:00 a.m. to 2:00 p.m. on Kauai
WHERE: Collection sites on Oahu, Kauai, Maui and Hawaii Island
Donation sites on Oahu and Kauai include: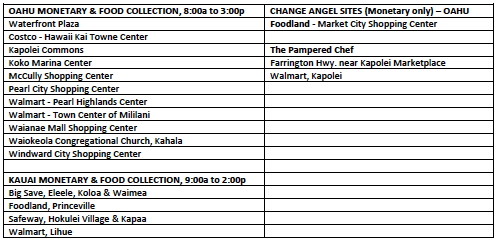 If you would like to donate food now, please drop off your nonperishable food donations at:
 Ruby Tuesday Hawaii
 Napa Auto Parts Hawaii
 Hard Rock Cafe
 Cutter Ford/Mitsubishi
 City and County of Honolulu Fire Stations, now through April 30, 8a to 5p, daily
Or make a monetary donation by:
 Visiting www.hawaiifoodbank.org to place a secure online donation
 Call 836‐3600 to make a donation by credit card
 Or send your check to:
The Hawaii Foodbank Annual Food Drive
2611 Kilihau Street
Honolulu, HI 96819