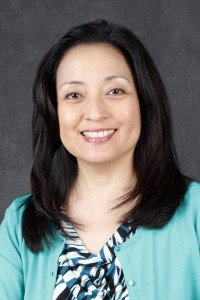 By Staff Reports
(Honolulu) – The Queen's Medical Center (QMC) has announced that Lydia Kumasaka, MS, RN, APRN has been named Director of Nursing at The Queen's Medical Center – West O'ahu (QMC – West O'ahu). Kumasaka will be responsible for directing nursing and patient care operations to ensure the delivery of high-quality, safe and effective patient care services.
Kumasaka has almost 30 years of experience in the health care industry.  Prior to joining QMC – West O'ahu, Kumasaka was the Manager of the Pain and Palliative Care Department of The Queen's Medical Center.
She has worked at QMC since 1992.
"I am grateful that Lydia has decided to pursue this new and challenging role as a member of our QMC – West O'ahu team," said Art Ushijima, President of The Queen's Medical Center.  "Lydia's family roots are in Ewa, where her father grew up.  Her mother is a retired a physician who practiced in Aiea and was on the medical staff of St. Francis Medical Center.  So, being the first Queen's Director of Nursing for our new hospital in West Oahu has both professional and personal significance for Lydia and her family.  This new role is another step in her journey to grow and to develop herself professionally and personally.  It reflects her nature to tackle new challenges, to grow as a leader and to make a meaningful and positive difference for Queen's and for the patients and communities Queen's serves."
Kumasaka is the recipient of the Queen Emma Nursing Leadership Award, Reginald C. S. Ho Pain Control Award (American Cancer Society, Hawaii Pacific Division), Sigma Theta Tau International Excellence in Nursing Practice Award, The Queen's Cancer Institute Employee of the Year Award, and The Graduate Student Research Award.
Kumasaka's community work includes serving on the University of Hawaii School of Nursing and Dental Hygiene Adjunct Faculty and American Organization of Nurse Executives Hawaii Chapter, as Sponsorship Chair.  She is also a member of the State Board of Pharmacy, in Honolulu, Hawaii and a Member of the Regional/National Board of Pharmacy.
She is currently a member of the American Society of Pain Management Nurses ("ASPMN") and The American Organization of Nurse Executives ("AONE").  She is a past member of the Hospice and Palliative Nurses Association ("HPNA").   She is board certified in pain management by the American Nurses Credentialing Center, the national certification body.
"We are delighted to have Lydia on board," said Susan Murray, QHS Senior Vice President, West Oahu Region, and Chief Operating Officer, The Queen's Medical Center – West O'ahu.  "Queen's goal is to build an active and vibrant presence in West Oahu to serve this large and growing community, and to fulfill the mission of our founders, Queen Emma and King Kamehameha IV to provide in perpetuity quality health care services to Native Hawaiians and all of the people of Hawaii.  Lydia shares the same goals."
Kumasaka has an MS in Nursing focused in Oncology from the University of Hawaii Nursing School and a BSN, from Seattle University.
She is a resident of Kaneohe.
"Over the coming months, we will be adding several other members to our West Oahu  leadership team and we anticipate they will bring similar skills and values as Lydia," said Ushijima.
Queen's officially acquired the former Hawaii Medical Center (HMC) West campus from St. Francis Healthcare System of Hawaii on Friday, December 14, 2012.
The campus has been named The Queen's Medical Center – West O'ahu.  Queen's plans to open the hospital in Spring 2014.
For more information about The Queen's Medical Center, please visit www.queens.org.