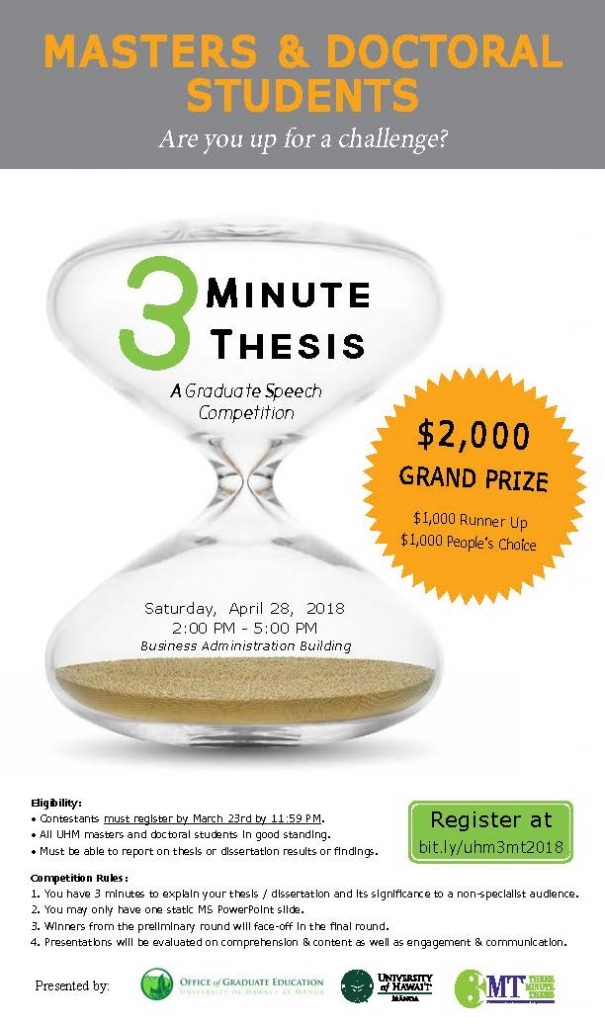 By Staff Reports
(Hawaii)– Graduate students representing different majors/programs from across the University of Hawai'i at Mānoa will compete in the Three Minute Thesis (3MT) competition on Saturday, April 28.  The event will be held at the Shidler College of Business building with the preliminary round beginning at 2 p.m.
Graduate students must explain their master's or doctoral research in three minutesor less, with the aid of only a single PowerPoint slide. This is quite a challenge considering it would take a person two hours to read out loud an average master's thesis manuscript and about six and a half hours to read out loud an average doctoral dissertation manuscript.
Participants are evaluated on their ability to convey the gist of their research questions and results in a manner that is understandable and engaging to an intelligent, but non-specialist audience, while avoiding trivializing their research. Professor Amy Hubbard, chair of the steering committee and chair of the Department of Communicology said, "Graduate students must be able to share their research, not only with other scholars, but also with family, friends, and the community.  Events such as these reinforce the value of communicating knowledge for the betterment of all."
This event, started in 2008 by The University of Queensland, is now held at nearly 200 universities around the world, 95 of which are in the U.S.  Dean of Graduate Division Krystyna Aune sought to bring this competition to UH Mānoa to give graduate students an opportunity to further develop their communication skills and share their research with the campus and the public.
During the 2016 inaugural 3MT competition for UH Mānoa, the first place and people's choice winner (chosen by audience members) was Samuel Tassi Yunga, a doctoral candidate in tropical medicine, medical microbiology and pharmacology. He won over the judges and the audience with his passionate speech about his travels to Cameroon, West Africa to collect blood samples and track newborns, both prior to and after birth to determine the effects of malaria parasite infections. The second place winner was Liang Shi, a doctoral candidate in civil and environmental engineering. Her research captured the audience's attention with her analysis of driverless vehicles and their effect on traffic congestion. When asked what they would say to others who might be interested in participating in the future, Yunga said "Go for it! Get out of your comfort zone and take the challenge!"
Aune emphasized that "Hearing about the innovative and impactful research conducted by our graduate students across fields is a powerful reminder of how central graduate education is to the mission of our research university."
To support this event or graduate education in general, go to the graduate division donation page
https://manoa.hawaii.edu/ graduate/content/donate.
For more information on the Three Minute Thesis competition, go to the graduate division website:
http://manoa.hawaii.edu/ graduate/content/three-minute- thesis-3mt-competition-2018