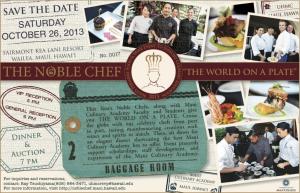 By Staff Reports
(Maui)– The Maui Culinary Academy (MCA) at the University of Hawai'i Maui College (UHMC), in partnership with the Fairmont Kea Lani Maui and Youngs Market Company of Hawai'i will present the 17th annual Noble Chef benefit on Saturday, October 26th, 2013. The event begins with a VIP reception at 5 p.m., followed by a full reception at 6 p.m., and an elegant gourmet dinner with entertainment and auction at 7 p.m. Tickets are $250 for preferred seating and $185 for general seating. Table sponsorships begin at $3,000.
The Noble Chef is MCA's largest annual fundraiser, and features a mentorship program that pairs together many Maui's celebrity chefs and MCA students. This year's event theme is "The World on a Plate", represented by a celebrity chef-designed reception menu spanning the culinary "hot spots" of the world, including Japan, Vietnam, Morocco, Spain, Great Britain, India, Greece, New Zealand, and Mexico. After the reception, guests will sit down for a multi-course gourmet French dinner and dessert prepared by MCA's faculty chefs. Wine and spirits throughout the evening are provided by Young's Market Company of Hawai'i, Ocean Vodka, and Maui Brewing Company.
In addition to preparing the evening's meals together, the celebrity chefs and the students they mentor spend several days together beforehand in an intimate learning exchange, providing invaluable hands-on experience for MCA students. This year's celebrity "noble chefs" are:
Chef Greg Gaspar, Sheraton Maui Resort & Spa.
Chris Kulis & Brian Etheredge of Capische?
Brett Martin of Andaz Maui at Wailea
Lyndon Honda of Laulima Events & Catering
Marc McDowell of Makena Resort Maui
Anton Haines of Pacific'O
Bret Pafford of Gannon's
Wes Holder of Pulehu, an Italian Grill
Bryan Beneke of Four Seasons Maui Resort
MCA faculty chefs include Jake Belmonte, Tom Lelli, Craig Omori, Jeff Scheer, Theresa Shurilla and Christina Pafford.
Noble Chef Table Sponsorships directly benefit the Maui Culinary Academy, and are available for a limited time. Table Sponsors currently include: Maui No Ka Oi Magazine, Maui Oil Company, Gunars and Jorene Valkirs, Hawaii Gas Company, Bank of Hawai'i, Johnson Controls, First Hawaiian Bank, and Sodexo. To view sponsor packages, interested parties can visit http://bit.ly/SponsorNC13.
For more information about The Noble Chef event, visit: http://noblechef.maui.hawaii.edu
To learn about the Maui Culinary Academy, visit http://www.mauiculinary.com