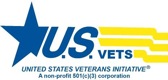 By Staff Reports
(Kapolei)– U.S.VETS – Barbers Point (U.S.VETS-BP), based in Kapolei, has been awarded a $300,000 grant from the Department of Labor under the department's Homeless Female Veterans and Veterans with Families Program (HFVVWF) program.  The grant will expand current service in Oahu in addition to bringing much needed employment services to female veterans and veteran families living on the neighbor islands of Maui, Hawai'i and Kaua'i.  The grant targets enrollment of 120 veteran households with a yearly employment placement goal of 84 veterans.
The U.S. Department of Labor's Veterans' Employment and Training Service awarded a total of 22 grants, totaling more than $5 million, to provide about 1,900 homeless female veterans and veterans with families with job training to help them succeed in civilian careers.
U.S.VETS-BP recently completed its 10th year of serving veterans experiencing homelessness in Hawaii.  The agency has operated transitional and permanent housing programs in Barbers Point (Kalealoa) for disabled, homeless veterans since 2003 as well as the Homeless Veteran Reintegration Program (HVRP) since 2005 which provides employment assistance and training to homeless, unemployed veterans in the rural areas on the island of O'ahu.
The agency's new Women-focus employment grant will provide services which include job placement, on-the-job and classroom training, career counseling, life skills and money management mentoring to homeless female veterans and veteran families.  With its 8 years of experience providing workforce development assistance to veterans in need, U.S.VETS-BP is eager to expand its services on the island of O'ahu and neighboring islands.
Since 2009 when President Obama and Secretary Shinseki announced the federal government's goal to end veteran homelessness by 2015, U.S.VETS – Barbers Point has made a concerted effort to diversify its programs in order to serve the greatest number of veterans.  This HVRP HFVVWF grant, along with the newly awarded $1.0 million SSVF grant, allows U.S.VETS to expand its effort and impact in Hawaii.
For more information about HVRP or any of the programs operated by U.S.VETS – Barbers Point, please contact Kim Cook, Psy.D. at (808) 682-9010 or the local U.S.VETS site at (808) 672-2977 or visit the website at www.usvetsinc.org.