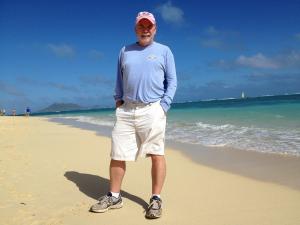 By Staff Reports
(Honolulu)– Jim Hollyer, head of the On-Farm Food Safety program at UH Mānoa's College of Tropical Agriculture and Human Resources, will be traveled to Minamisanriku, Tohoku, Japan, last Friday, to volunteer his time and skills with Japan-affiliated organization Peace Winds America.  Hollyer will help to build fishing sheds for families impacted by the 2011 Tohoku tsunami and earthquake. On his vacation, he will work for at least six days pouring concrete, setting cinderblocks, and constructing pre-fab fishing sheds.
Hundreds of families in Iwate and Miyagi Prefectures of the Tohoku Region whose livelihoods depended on fishing are still unable to work after losing supplies, boats, housing, and work structures to the devastating natural disaster. Of crucial importance are the fishing sheds that allow the fishermen to store supplies and equipment, process their catch, shelter from the elements while eating or resting, and even stay overnight if necessary. But since these sheds were closest to the water, their losses were severe.
Peace Winds America (PWA) is a Seattle-based disaster relief and mitigation NGO focusing on the Asia-Pacific region. Immediately after the March 11, 2011, disaster struck northern Japan, PWA was on the ground providing relief and recovery programs in tsunami-affected areas. Currently, PWA is helping to restore livelihoods in the tsunami-affected area by providing work and storage buildings to fishing families who have lost so much to the tsunami. PWA believes that supporting economic recovery will accelerate the revitalization of the region. To find out more and to donate directly to PWA's ongoing Tohoku rebuilding effort, please visit their website at http://peacewindsamerica.org/japan-earthquake-and-tsunami/.
Hollyer isn't looking for donations; his trip is covered. But he is giving a shout-out to Hawai'i fishers and others who still want to help Japan recover. After the tsunami struck, the Red Cross and other organizations accepted donations of food and supplies, but Hollyer wanted to do more. So he connected to PWA to organize the sort of hands-on support he wanted to give.
Hollyer is no stranger to humanitarian aid; after Hurricane Sandy, the Red Cross volunteer captain traveled to Queens, New York, for two weeks. With his experience in food safety, he was assigned the charge of overseeing a kitchen that cooked and distributed over 9,000 meals a day to storm survivors. His family has always volunteered, he explains; it's second nature to him. His father helped the English as a Navy Seabee during WWII, and his younger sister, Jane, volunteers tutoring blind children.
Hollyer will be available for interviews on Thursday, May 16, before leaving Friday morning. Please contact Frederika Bain at (808) 956-3092 to schedule an interview.