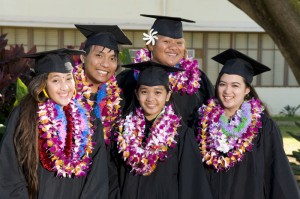 By Staff Reports
(Honolulu)– City and County of Honolulu Mayor Kirk Caldwell will be the featured speaker at the undergraduate and advanced degree ceremonies at the University of Hawai'i at Mānoa on Saturday, May 11, at the Stan Sheriff Center.
The undergraduate ceremony is scheduled to begin at 9 a.m. (student procession begins at 8:30 a.m.), and will end at noon. About 1,500 students are eligible to receive bachelor's degrees at the undergraduate ceremony.
Later in the day, from 3-5 p.m., master's and doctor's degrees and post-baccalaureate certificates in secondary education will be awarded to nearly 800 graduate degree candidates. An Honorary Doctorate of Humane Letters will also be awarded to Hawai'i's living treasure, Eddie Kamae, a musician, composer, author and filmmaker.  Kamae is honored for his work in preserving the Hawaiian language and culture through film, music and education, and his aloha for mentoring the upcoming generation of leaders, artists and teachers.
Undergraduate Ceremony:
Rie Miyoshi, candidate for a Bachelor of Arts in Communications with a focus on multimedia, will be the student speaker. Born in Malaysia and raised in Japan, Miyoshi moved to Hawai'i in 2010 and received her Associates of Arts in Liberal Arts and Certificate of Competence in Marketing at Kapiolani Community College before transferring to UH Mānoa. While attending UH Mānoa as a full-time student, she worked as a marketing assistant at UH Mānoa Campus Services and as a photographer for the Ka Leo O Hawai'i school newspaper. Upon graduation, Miyoshi will be pursuing a career in public relations and marketing in the Pacific-Asia business region.
Undergraduate Honors Program candidates are Kayla E. K. Abing, Davin Aoyagi, Eva Marie Avery, Ka'ili Britos, Nanea Juliet Luuwai Cavaco, Soohee Cho, Jason Choi, Alice Chow, Roger Lee Drinkwater Jr., Maria Inah Cariza Doza Golez, Laila L. Goring, Joseph Han, Zach Hannah, Cody Hayashi, Megan Lafaso Hercher, Andrea Hidano, Akira Ito, Jessica Janiga, Alan Kane, Cheri Kau, Justin Wilbert Koelkebeck, Meagan Kubojiri, Jeffery Kwock, Mahealani Liborio, Matthew Allen Lim, Tiffany Looi, Marissa Kawehi Loving, Sarah Kulia Medeiros, Yuka W. Mickelson, Crystal K. Morton, Elena Jana Moser, Nadezna "Nadine" Agcaoili Ortega, Emily J. Pruett, Robin Reynolds, Roberto Rodriguez, Chelsea Sassone, Maya Scimeca, Raven Julia Sevilleja, Austin J. Simpson, Natasha Matsue Lokomaika'inani Soares, Jacob Vandor, Sara A. Watanabe, Jane Elizabeth Wiegand, Jarred Williams and Regina Tatiana Nabor Zabanal.
Also receiving recognition during the ceremony will be Regents' Scholars Davin Aoyagi, Emma S. Ching, Jonathan Dang, Jeffery Kwock, Mari Okahara, Teale Thornburg and Geoffrey Phi Calara Tran.
Presidential Scholar graduates are Marissa Kawehi Loving, Marissa M. Mann and Bryceton Wayne Kekoa'imipono Pelton. The Board of Regents established the Regents' and Presidential Scholarships in 1987 as the University's first full scholarships based solely on academic excellence and reserved for Hawai'i's best high school and community college students.
Logistics:
Doors to the Stan Sheriff Center will open at 7:45 a.m. for the undergraduate ceremony and at 1:45 p.m. for the advanced degree ceremony. Both events are free and open to the public. No tickets are issued, and seating is on a first-come, first-served basis. Balloons and strollers are not allowed inside the Stan Sheriff Center.
Free parking will be available in the lower campus parking structure, which will open at 6 a.m. Parking shuttle service will be provided for the undergraduate ceremony only. No shuttle service will be provided during the advanced degree ceremony. The shuttle buses are wheelchair accessible and run a continuous route from the Biomedical Science Building to Krauss Circle.
Friends and family members may greet graduates following the ceremony on the football practice field (surnames A-L) and the soccer practice field (M-Z). Authorized lei vendors will be located in the areas. Authorized lei vendors will be located in the area.
There will be a live webcast of the undergraduate ceremony. See the website at: http://www.manoa.hawaii.edu/commencement/.