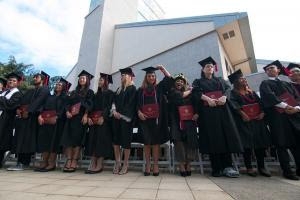 By Staff Reports
(KAPOLEI)– Graduates, family, and friends will celebrate spring 2018 commencement exercises on Saturday, May 5. About 320 students will earn bachelor's degrees and certificates during a 9 a.m. ceremony at the UH West Oʻahu Lower Courtyard.
Brigadier General Suzanne P. Vares-Lum of the U.S. Pacific Command will give the keynote address. Chancellor Maenette K.P. Ah Nee-Benham will preside over the ceremony. University of Hawai'i System Vice President for Academic Planning and Policy Donald Straney and Regents Michael McEnerney and Brandon Marc Higa of the University of Hawaiʻi Board of Regents will be on hand to congratulate the graduates.
Vares-Lum is the mobilization assistant to the U.S. Pacific Command's director of strategic plans and policy at Camp Smith, helping the command's efforts to shape and maintain regional security. The Wahiawā-born Vares-Lum is a graduate of the University of Hawaiʻi at Mānoa with a Master of Education in Teaching, and a Master of Strategic Studies degree from the U.S. Army War College. Prior to her Pacific Command assignment she served as Chief of the Joint Staff, Hawaiʻi National Guard.
Lehua Gould, a Kapolei resident graduating with a Bachelor of Arts in Business Administration with a concentration in accounting and a Bachelor of Arts in Humanities with a concentration in Hawaiian-Pacific Studies, will speak on behalf of the graduating class. Moanoaoalii Toomalatai, a Kapolei resident graduating with a Bachelor of Arts in Business Administration with concentrations in accounting and management, will serve as the student emcee for the ceremony.
UH West O'ahu graduates will receive their baccalaureate in Applied Sciences, Business Administration, Education, Humanities, Public Administration and Social Sciences during the commencement ceremony. Graduates will also receive certificates in various programs including Applied Forensic Anthropology, Asian Studies, Disaster Preparedness and Emergency Management, Health Care Administration, Risk Management and Insurance, Substance Abuse and Addictions Studies, and Democratic Principles and Social Justice.
The commencement ceremony will be streamed live on the UH West O'ahu website at http://www.uhwo.hawaii.edu.
UH West O'ahu spring 2018 Commencement details:
Family and friends are welcome to attend commencement in the UH West O'ahu Lower Courtyard. No tickets will be issued. Guests may arrive at 8 a.m. The seating area will be closed off once it reaches maximum capacity.
The parking lot is expected to fill to capacity. Graduates will be issued a total of three (3) parking passes for their use and their guests. Spaces will be on a first come, first served basis. The parking lot will be closed once it reaches capacity (due to safety concerns). Carpooling is highly encouraged. Plan to arrive early as there will be considerable congestion along the Farrington Highway entrance to the campus. Traffic may be heavy during exit as well due to altered traffic routes.
Lei vendors will be on site. Balloons and strollers are not allowed in the commencement seating area for safety reasons.
A first-aid station will be available.
A UH West Oʻahu Bookstore tent will be on-site selling UH West Oʻahu merchandise.
Graduates may greet guests following the ceremony at approximately 10:30 a.m. at the UH West O'ahu Great Lawn near alphabetical signs.