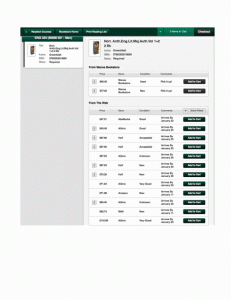 A sample textbook price comparison page from the UH Mānoa Bookstore website shows cost for a two-volume Norton Anthology textbook: a $66 used book immediately available at the Bookstore vs. online prices, most higher, for books which would not arrive for several weeks. http://hawaii-manoa.verbacompare.com/comparison?id=4167479.
By Staff Reports
(HONOLULU)–  In time for the spring semester, the University of Hawai'i Bookstores is taking its promise of competitive pricing to the next level, daring its customers to compare its textbook prices with well-known online retailers'. According to Student Watch 2013, a study by the NACS (National Association of College Stores) Foundation, nearly 70 percent of students regularly compare book prices online. The University of Hawai'i's new comparison tool gives its students at all ten campuses across the state the convenience of viewing all their textbook options with a single search on their campus bookstore's website.
"The common belief  is that the university bookstore is always more expensive than competitors such as Amazon.com or Half.com," said Tricia Ejima, Assistant Director of UH Mānoa's Campus Services. "There are more than 350 other college bookstores now using the same digital comparison tool, and they tell us that once presented with this transparent environment, more than 85 percent of their customers choose to shop at their campus store."
How it works
Using a state-of-the-art software system, students visit the website of their campus bookstore and enter the course and section in which they're enrolled. What follows is a user-friendly display of their required textbooks in available formats (new, used, rental, digital), with accompanying prices from the UH Bookstores, as well as five to seven of the top e-tailers. Student-customers can compare costs, the condition of books, arrival dates, and return policies, then add their selections to their online shopping cart where they can make a single purchase. As an added convenience and to save students from standing in line during the traditional "rush" week, textbooks purchased from the UH Bookstores are available for home delivery or pick up at their campus store.
"One-stop comparison shopping is just one of the ways our bookstores help our busy students make smart choices," Ejima continues. "Our growing textbook rental program gives them upfront savings; buyback gives them immediate cash for books they no longer need. We also work with our faculty to be sure we're able to offer the most competitive prices by ordering the correct editions as early as possible before the start of every semester. Our campus stores are keeping pace with our communities' needs and proud to be a resource they can count on for everything from apparel to Apple computer repairs, and more."
About the University of Hawai'i Bookstores
The mission of the UH Bookstores is to promote a productive learning environment for the UH community by offering a diverse array of quality products and services at competitive prices. All proceeds support the University of Hawaiʻi. The main branch of the Bookstore system is located on the Mānoa campus, in the heart of the Campus Center. In addition, there are eight branch stores (UH-Hilo, UH-Maui College, UH-West O'ahu, Leeward Community College, Kapi'olani Community College, Honolulu Community College, Kaua'i Community College, and Windward Community College), a Medical Bookstore, an Outreach Program, and two Rainbowtique merchandise stores at Ward Centre and the Stan Sheriff Center.
The University of Hawai'i Bookstores is online at www.bookstore.Hawaii.edu, and multiple social media pages, such as Facebook (/manoabookstore), Twitter (@manoabookstore), and Instagram (@manoabookstore).