By Staff Reports
(Maui)– Thousands are expected to participate in a weekend-long event of cosplay, comic book artist exhibitions and vendors, special guests, food, video games, collectors' items and all-things-creative at the 3rd Maui Comic Con held at the University of Hawai'i Maui College Student Lounge and Paʻina Building on Saturday and Sunday October 27–28 from 9:30 a.m. to 6 p.m.
Headliners this year include David Michelinie, comic writer and creator of Venomand Ant-Man(Scott Lang); Trina Robbins, first woman to draw Wonder Womanfor DC Comics; Steve Leialoha, inker and artist from Marvel Comics and Vertigo's Fables; Steve Lavigne, early contributor to Teenage Mutant Ninja Turtles; Bob Camp, co-creator and director of The Ren and Stimpy Show; and Keith Tucker, Emmy award-winning artist and former Maui resident who storyboarded most of the greatest Saturday morning cartoons of the '80s and '90s.
The event features amazing local artists including many from the Hawaiian Comic Book Alliance who will display, sell and demonstrate their work. Proceeds from food sales will support various community clubs. In addition, special vendors are invited to a Preview Day on Friday, October 26, from 3 to 6 p.m.
The third annual Night Darling Cosplay will have individual competitions on Saturday, October 27, and group and keiki competitions on Sunday, October 28. Both contests will begin at noon in the Paʻina Building. Pre-registration is recommended online.
The Maui Comic Con is free to the public and is presented by Maui Comics and Collectibles, Game Over Comics, Hex Press Maui, Gerdel Studio and UH Maui College. Visit the website for more information about participating artists, booths, sponsors, cosplay rules and registration details.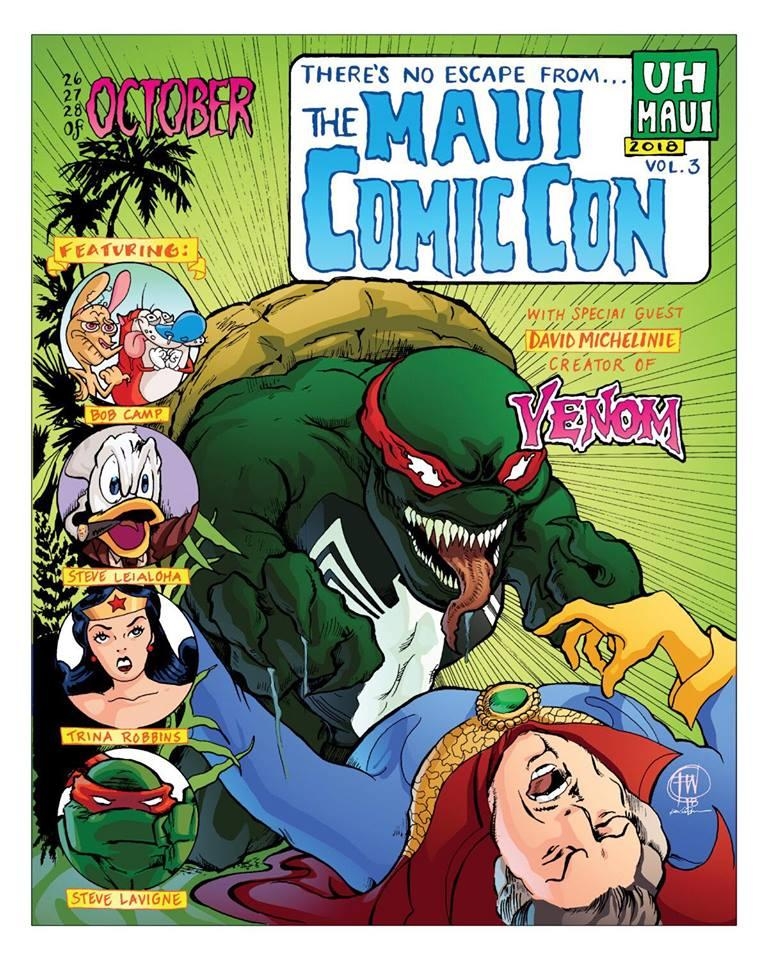 Free workshops for high schoolers
For the first time, Maui Comic Con special guests are participating in mini educational workshops for the event's Preview Day on Friday, October 26, from 8 a.m. to noon at UH Maui College. The workshops are exclusive to Maui County high school students who are interested in pursuing a future in the creative field.
Some of Maui Comic Con's headliners will personally share experiences about their careers, while some will have hands-on workshops on watercolor, graphic design, character and story development, and creative storytelling.
The workshops aim to educate and inspire students to consider furthering their education and help them develop a network in the industry.
These high-value sessions are free and limited slots are available. Interested students should contact their counselors to sign up or call UH Maui College Student Life at (808) 984-3434.
Kick-Off with Open Mic Night
Maui Comic Con festivities kick off at UH Maui College with an Open Mic hosted by its Music Club on Thursday, October 25, from 5 to 8 p.m. at the student lounge.
The Open Mic will feature performances from the UH Maui College Chorus, hip-hop groups Maui Dance Klub and Beyond Extra, and musicians from the UH Maui College Institute of Hawaiian Music. It is free and open to the public. Light refreshments will be served. Call Kaylani at (808) 727-0218 for more information.