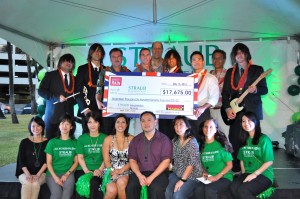 By Staff Reports
(Honolulu)– Broadway in Hawaii and MagicSpace Entertainment, presenter of the Experience the Beatles with RAIN 2012 Tour in Hawaii, designated tonight's performance as a benefit, presenting $17,675 to the Straub Foundation for  Rehabilitation Services at Straub Clinic & Hospital.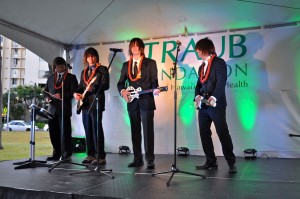 Joey Nielson, production manager with MagicSpace, presented a check to Art Gladstone, CEO of Straub Clinic & Hospital, and Drs. Cedric Akau and Cass Nakasone during a special reception on the Blaisdell Ewa lawn. A highlight was entertainment by Straub's own employee musicians (Andrew Giles, CHESP, Director, Environmental Services & Patient Transport; Andrew Moats, RN, Director of Hospital Operations, Technology, Informatics & Business Systems; Sean Mina, Patient Service Representative Straub Clinic & Hospital Rehabilitation Department; and John Perales RN, Manager Operating Room). Healthcare providers by day, rock stars by night, these four members of the Straub Clinic & Hospital ohana donned their mop tops and channeled the Beatles in a pre-show mini-concert.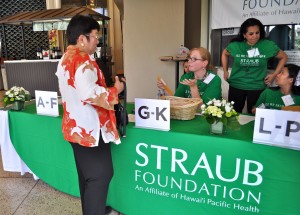 Noting that 100 percent of the proceeds go directly to Straub in support of Rehabilitation Services, Gladstone said, "We are deeply grateful for this generous donation from our community of supporters who purchased tickets to today's show, as well as to Broadway in Hawaii and Magic Space.  The funds raised through the sale of tickets to RAIN will help our patients by supporting excellence in Straub's rehab services, including training for our staff in the latest innovative therapies, purchase of state of the art diagnostic and therapeutic equipment, and ongoing improvements and renovations of our clinics and facilities."
About Straub Foundation and Straub Clinic & Hospital
The Straub Foundation is dedicated to improving the health of Hawai'i's people through the funding of medical care, equipment, health education and research at Straub Clinic & Hospital.
Founded in 1921, Straub Clinic & Hospital is a fully integrated nonprofit healthcare system with a 159-bed hospital in Honolulu, a network of neighborhood clinics and a visiting specialist program that reaches throughout the state of Hawai'i. With 200 employed or contracted physicians who are leaders in their fields, Straub provides its patients with expert diagnoses and treatments for more than 32 different medical specialties, including bone and joint, heart, cancer, endocrinology/diabetes, family medicine, gastroenterology, geriatric medicine, internal medicine, vascular and urology. Straub is home to the Pacific Region's only multi-disciplinary burn treatment center.
The hospital consistently brings new technologies and innovative medical practices to Hawai'i, such as minimally invasive cardiac surgery and total joint replacement. Straub is an affiliate of Hawai'i Pacific Health, the state's largest health care provider. This year, Straub is the recipient of The Healthgrades 2013 Distinguished Hospital for Clinical Excellence and the Patient Safety Excellence Award.  It also received the Outstanding Patient Experience Award for four consecutive years. Learn more at: www.straubhealth.org.
About Experience the Beatles with RAIN
Direct from their phenomenally successful Broadway engagement, the internationally-acclaimed Beatles concert, RAIN, is making its Hawaii its debut this week at the Neal S. Blaisdell Concert Hall for 8 shows only May 14 – 19. As "the next best thing to seeing The Beatles!" (Associated Press), RAIN performs the full range of The Beatles' discography live onstage, including the most complex and challenging songs that The Beatles themselves recorded in the studio but never performed for an audience. In addition, new songs are being included with the launch of the 2012 Tour. Together longer than The Beatles, RAIN has mastered every song, gesture and nuance of the legendary foursome, delivering a totally live, note-for-note multimedia performance that's as infectious as it is transporting. From the early hits to later classics (I Want To Hold Your Hand, Hard Day's Night, Sgt. Pepper's Lonely Hearts Club Band, Let It Be, Come Together, Hey Jude and more), this adoring tribute will take you back to a time when all you needed was love, and a little help from your friends!