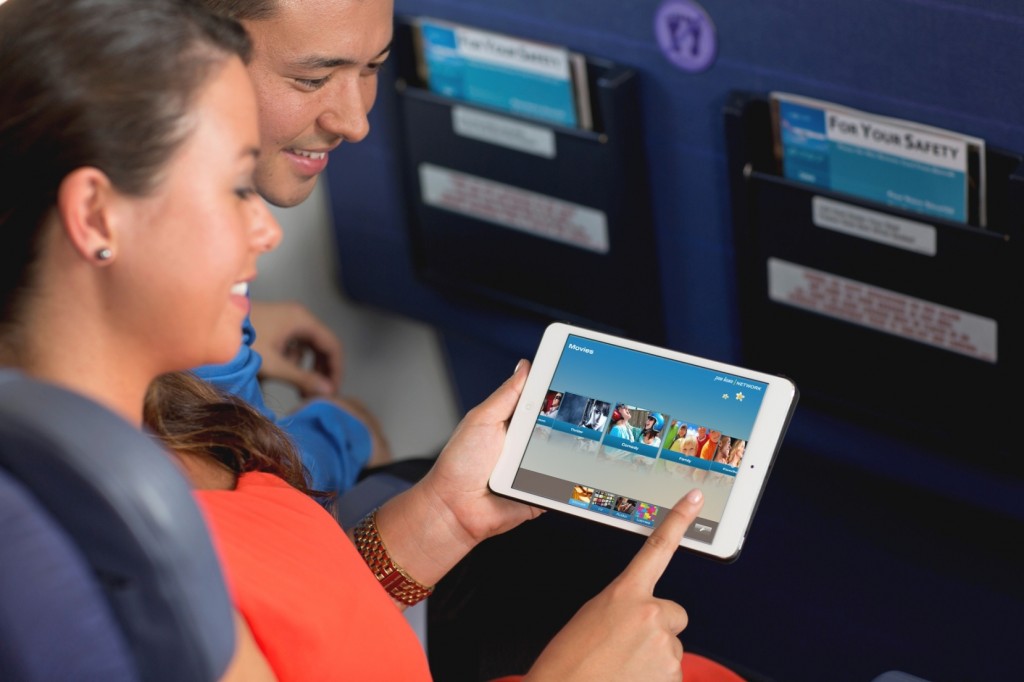 By Staff Reports
(Honolulu)– Hawaiian Airlines, Hawai"i"s largest and longest serving airline, will lift its award-winning in-flight service on September 1 when it becomes the only U.S. carrier to offer the Apple iPad mini on all of its wide-body Boeing 767-300 aircraft.
The airline has contracted Bluebox Avionics, a global provider of portable In-flight Entertainment (IFE) solutions to airline carriers, to deploy 1,500 iPad minis on 14 B767 aircraft serving 14 routes between Hawai"i and the U.S. Mainland, Asia and South Pacific. The iPad minis will replace all current portable entertainment systems on all of Hawaiian Airlines" B767 routes.
"Hawaiian Airlines" signature on-board hospitality is already very popular with travelers, but we wanted to go even further to ensure our customers" travel experience is more enjoyable," said Blaine Miyasato, Hawaiian Airlines vice president of product development. "With the help of Bluebox Avionics, we"re building on our acclaimed inflight service by incorporating the latest in popular consumer tech products to enhance our in-flight entertainment options."
With the iPad mini, Hawaiian Airlines travelers can enjoy more than 100 hours of the latest Hollywood releases, television shows, and a variety of exciting interactive games at their fingertips. The iPad minis are complimentary in Business Class on all B767 routes and available for rent in Economy Class for $15 if reserved at departure gate prior to boarding ($17 if purchased in-flight), subject to availability, on North America, Brisbane, and Pago Pago routes.
"We are delighted to be working with Hawaiian Airlines as our first U.S. client to deploy the Bluebox Ai IFE solution on the iPad mini," said David Brown, joint managing director of Bluebox Avionics. "At Bluebox Avionics, we understand the importance of the need for high-quality passenger experience aboard the aircraft, and we are also well-tuned to providing capabilities that are simple and efficient for our airline partners to manage."
Hawaiian Airlines currently operates the wide-body, twin-aisle Boeing 767-300 aircraft between Honolulu and Oakland, San Jose, Sacramento, Seattle, Phoenix in the U.S.; Fukuoka and Sendai, Japan; Seoul, South Korea; Brisbane, Australia; Papeete, Tahiti; and Pago Pago, American Samoa. In addition, Hawaiian Airlines B767 routes also include service between Kahului, Maui and San Jose, Oakland and Seattle.
Hawaiian Airlines is also the only carrier flying between the U.S. Mainland and Hawai"i to offer complimentary meals in Economy Class. Adding to the enjoyment of the travel experience on Hawaiian Airlines is the carrier"s signature onboard hospitality program, Mea Ho'okipa (translation: I am host). Travelers will enjoy island-style complimentary meals and made-in-Hawai"i snacks to go along with Hawaiian Airlines" engaging presentation of the islands" culture, people and Aloha Spirit throughout the flight.
About Bluebox Avionics
Bluebox Avionics specializes in the provision of portable IFE solutions to the airline sector. Utilizing the latest consumer tablet devices, Bluebox provides airlines with the benefits of commercial off-the-shelf (COTS) technology such as the iPad with software and ancillary components to ensure the class leading in-flight entertainment solution. The Bluebox software solution has been approved by all six major Hollywood movie studios for the delivery of early window content allowing airlines to offer passengers the latest movies ahead of DVD release as well as wide range of other video, audio, reading and gaming content. Bluebox Avionics is backed by content distribution specialist DMD Phantom and AviIT Ltd, a highly regarded aviation IT provider. The business has a global support network that includes facilities in the US, Europe and Australia.
About Hawaiian Airlines
Hawaiian has led all U.S. carriers in on-time performance for each of the past nine years (2004-2012) as reported by the U.S. Department of Transportation. Consumer surveys by Condé Nast Traveler, Travel + Leisure and Zagat have all ranked Hawaiian the highest of all domestic airlines serving Hawai"i.
Now in its 84th year of continuous service, Hawaiian is Hawai"i"s biggest and longest-serving airline, as well as the largest provider of passenger air service from its primary visitor markets on the U.S. mainland. Hawaiian offers nonstop service to Hawai"i from more U.S. gateway cities (11) than any other airline, along with service from Japan, South Korea, Taiwan, Australia, New Zealand, American Samoa, and Tahiti. New nonstop service will begin between Honolulu and Beijing, China in April 2014, subject to government approval. Hawaiian also provides approximately 160 jet flights daily between the Hawaiian Islands.
Hawaiian Airlines, Inc. is a subsidiary of Hawaiian Holdings, Inc. (NASDAQ: HA). Additional information is available at HawaiianAirlines.com. Follow updates on Twitter about Hawaiian (@HawaiianAir) and its special fare offers (@HawaiianFares), and become a fan on its Facebook page (Hawaiian Airlines).