By Staff Reports
In celebration of Mahina ʻŌlelo Hawaiʻi (Hawaiian Language Month), haumāna (students) and kumu (faculty) from the University of Hawaiʻi at Mānoa Hawaiian Theatre program and Hawaiʻinuiākea School of Hawaiian Knowledge are trekking to a number of communities to encourage the use of Hawaiʻi's mother tongue. Ola Ka ʻĪ is a series of free Hawaiian language fairs spearheaded by the organization Kanaeokana which features hoʻokūkū haʻiʻōlelo Hawaiʻi(speech competition), games and crafts for the entire ʻohana.
Tammy Hailiʻōpua Baker, director of the Hawaiian Theatre Program, and her haumāna have participated in two fairs so far this month, the most recent on Maui. "I hope that sharing our moʻolelo and artistic practice at Ola ka ʻĪ inspires our community to continue to embrace our language as a source for deeper understanding of our culture and history," Baker said.
The nationally-recognized program screens a film version of its on-stage production, ʻAuʻa ʻIa: Holding On followed by a panel discussion. The Hawaiian language play written by Baker was performed to sold out crowds in Hawaiʻi and earned a prestigious invitation to perform in New York City in 2020.
Baker and her haumāna are scheduled to make another appearance at the fair's next event on Saturday, February 25, 10 a.m.–2 p.m. at Ka Makana Aliʻi in Kapolei.
Blazing ke ala (path)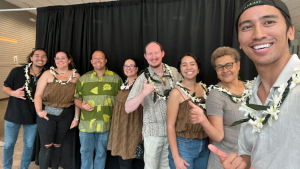 The Hawaiian Theatre program continues to pave the way for the growing demand for Indigenous arts. Under Baker's guidance, the program has catapulted into a cascading spotlight on both local and national levels. From 2021–22, two graduate haumāna debuted their own hana keaka (plays) penned in ʻōlelo Hawaiʻi. Both plays premiered on Kennedy Theatre's mainstage, and each earned national awards from the Kennedy Center American College Theater Festivalbeating productions from schools across the country.
This spring, Baker announced the program is expanding and will offer a PhD degree track in Hawaiian and Indigenous Performance starting in fall 2023. The addition of the program's doctoral degree comes on the heels of the recent launch of ʻAhahui Noiʻi Noʻeau ʻŌiwi-Research Institute of Indigenous Performance. The newly established institute is geared toward compiling academic research, curriculum development and community outreach to promote the field of Hawaiian and Indigenous performance.
As Baker and her students gear up for this Saturday's presentation, they aspire to ignite a spark within some nā pua (youth) to consider pursuing a growing avenue of Hawaiian language that fuses storytelling and performing arts.
"Ola Ka ʻĪ events reflects the growth of our Hawaiian language community. It's exciting to see how many of our keiki are enrolled in Kula Kaiapuni and the expansion of career opportunities for ʻōlelo Hawaiʻi speakers," Baker said.