By Staff Reports
(Honolulu)– "Go big or go home" is the fundraising approach for the Hilo Walmart team and the results have lived up to the motto. Hilo Walmart associates raised $73,347 in 2020 – the most collected in the country by a Walmart store – for Kapi'olani Medical Center for Women & Children, Hawai'i's only Children's Miracle Network Hospital. Overall, the total of $402,475 raised for the Children's Miracle Network (CMN) by all 12 Walmart and Sam's Club locations statewide also earned Hawai'i recognition as the top CMN fundraising market in the nation for the company as well.
The generosity of Hawai'i Island customers and employees made Hilo Walmart the most successful CMN fundraiser last year out of 4,670 Walmart stores nationwide. The momentum continues for Hilo as the store is still setting the pace across the country as the leading Walmart store for CMN fundraising in 2021. The four-week campaign is coming to an end this Sunday, July 25, 2021 so customers can still make Hilo No. 1 again.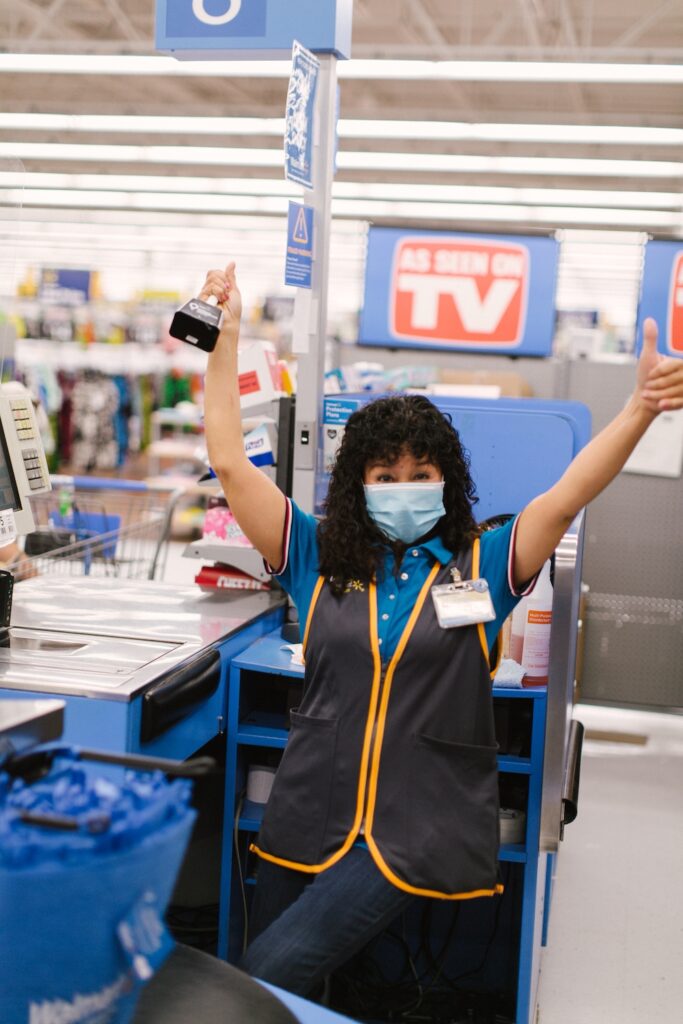 "It's crazy to think that Hilo, this small little town on the Big Island, can have such an impact on a CMN campaign by doing what we do and just being engaged and inspired. We like to be No. 1 and we want to stay No. 1," said Malia Jardine, Hilo Walmart front end coach.
In five years, Hilo Walmart's CMN fundraising results have increased by 429%. The team says the secret to its success is a pay it forward mentality that starts with cashiers celebrating every donation by ringing a cow bell at the register. "What happens when the bell rings is everyone yells 'mahalo,' " said Mark Roberts, store manager at Hilo Walmart. "It's not just that cashier who responds, it's all the cashiers on the front end plus the security team, vendors, and salesforce associates. Everyone yells so it echoes throughout the building.
Then customers ask, 'Hey, why is everyone saying mahalo?' Our team explains that we're raising money for Kapi'olani and then the next person gives. It just keeps going on and on. That's how we're able to raise so much money for the hospital. The energy is really fun; you'll hear bells ringing all day."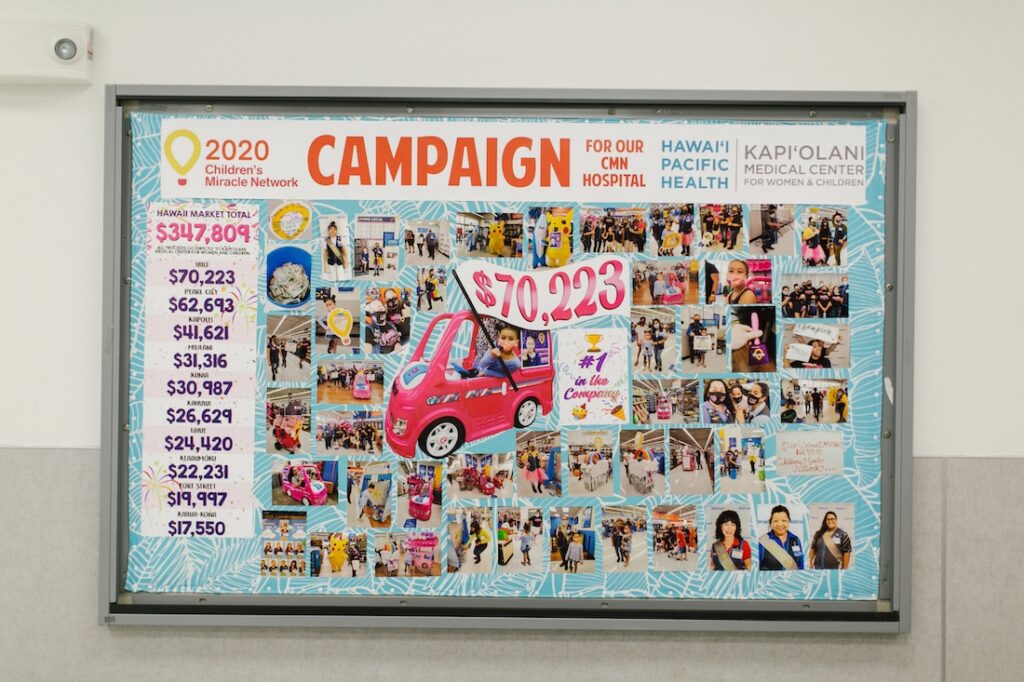 Many Hilo Walmart associates say helping Kapi'olani has become a personal commitment to the community. "I have a lot of family and friends who needed Kapi'olani services, in the worst times of their lives sometimes," Jardine said. "Hearing their stories about what they went through and how caring and amazing the staff at Kapi'olani is, is just enough for me to be as dedicated as I can be to this campaign."
It's energized all 360 Hilo Walmart employees so much that they have engaged in all kinds of fundraisers over the years from concerts to food sales. The most popular CMN activity was a fun music video that the Hilo Walmart associates produced themselves by recording and performing an original song about donating to Kapi'olani. The video instantly went viral.
"We didn't expect it to blow up as big as it did," said Nikkie Paige, people lead at Hilo Walmart. "Ourmusic video had about 2,000 shares, 120,000 views from all over the world. We had so many stores calling and asking 'How did you do something like this? How did you get your associates to do this?' We're just really passionate about what we do."
These creative efforts add to the already impressive contributions of Hawai'i's 10 Walmart stores and 2 Sam's Club locations across the islands. Besides Hilo's top billing, four other Walmart Hawaii locations finished in the top 20 in the nation for CMN donations. The other national leaders were as follows: 2nd-ranked Pearl City, 5th-ranked Kapolei, 15th-ranked Waipahu and 17th-ranked Mililani.
"To see what kind of difference Kapi'olani makes in the lives of the children in our community, it really touched my heart," Roberts said. "So every year we go and we see the progress of the hospital and all the different machines and equipment that's being bought with some of the funds that we raised. It makes us want to run and raise more for the hospital."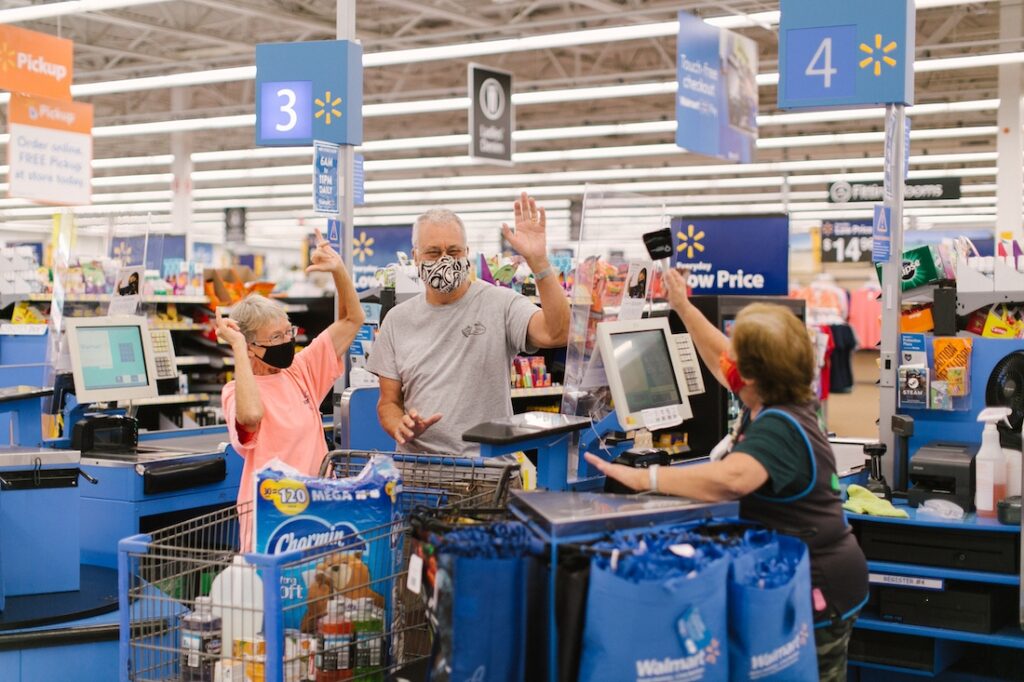 For over 34 years Walmart and Sam's Club associates, customers and members in the U.S. and Canada have been helping families in their communities live better by raising more than $1 billion for CMN Hospitals.
As a not-for-profit medical center, Kapi'olani relies on donations and is committed to providing advanced, quality care to all patients, regardless of their ability to pay. It's an incredible investment in local kids with 100% of the money raised for CMN in Hawai'i staying in Hawai'i to serve hospitalized children at Kapi'olani.
Kapi'olani CMN-funded programs include the hospital playroom, Child Life services, critical care transport, new technology, and family support programs to help local kids achieve even more medical milestones. To make a donation online, visit Give2Kapiolani.org.