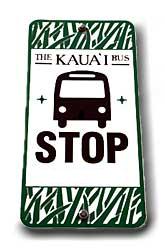 By Staff Reports
(Kauai)– Frequent Kaua'i Bus riders are encouraged to purchase bus passes before the new rates take effect on July 1.
With the rate increase, the monthly pass will go from $25 to $30 and the annual pass will rise to $300 from $240. The six-month bus pass, which currently sells for $120, will no longer be available come July 1.
There are a number of locations where the monthly bus passes can be purchased including:
Lîhu'e Civic Center, Kapulç Building, Treasury Division, 8 a.m. to 4 p.m.
Pono Market in Kapa'a
Menehune Food Mart – Kîlauea, Kapahi, Lâwa'i, and Kekaha
The six-month and annual bus passes are only available at the Kaua'i Bus office located at 3220 Ho'olako Street in Lîhu'e.
Transportation Executive Celia Mahikoa noted that the increase in the cost of bus passes was recommended in the Kaua'i Multimodal Land Transportation Plan and approved in the FY2014 budget process.
She also said that the rate increase is necessary to cover a portion of the major changes in services offered over the last few years.
"We expanded our operations by about 35 percent adding Sunday service and extending hours on weekdays," said Mahikoa. "In addition, we hired a consultant to design shelters for all of our bus stops, and are scheduled to build several bus stops later this year."
Other changes that were implemented include three additional runs for the Kapahi shuttle to make the service hourly, and restructuring of the Kôloa shuttle schedule to provide hourly service.
Another change on the horizon for the Kaua'i Bus is the transition of the Kôloa ball park bus stop from a regular bus stop to an on-call stop. This will take effect on July 1.
A complete listing of all bus routes can be found on The Kaua'i Bus website, www.kauai.gov/transportation.
Printed bus schedules are available on all county buses and at The Kaua'i Bus office. For more information, please call 246-8110.