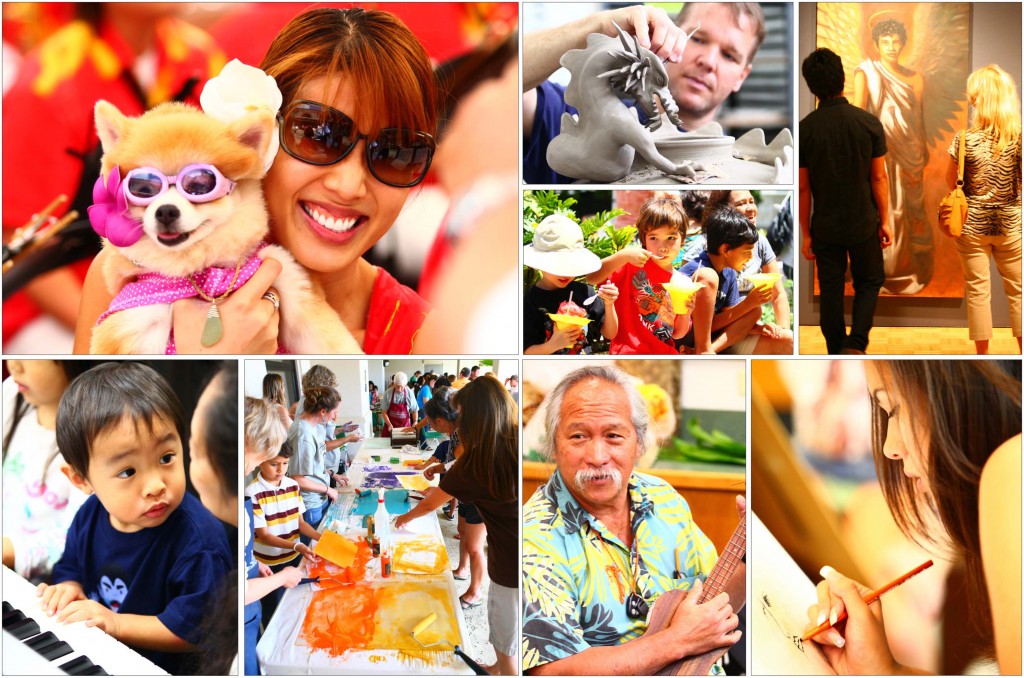 By Staff Reports
(Kaneohe)– Windward Community College presents the 3rd Annual Palikū Arts Festival, a unique interactive arts experience set for April 6, 2013 from 10 a.m. to 6 p.m. in and around the grounds of Palikū Theatre and the new Library Learning Commons on the Windward Community College campus in Kaneohe. Last year's festival was hugely successful, attracting approximately 5,000 people! The festival is free to the public and open to all ages.
A family friendly event, the Palikū Arts Festival will include free performances at Palikū Theatre, a free show at the Imaginarium, and fun hands-on opportunities to get involved in art, music, literature, theatre and movement. Attendees are encouraged to come in costume or festive clothing. 'Ono food will be available from Erinʻs Shave Ice to Crepes No Ka Oi and India Café, Papa John's Pizza, and fresh coffee and frappes from The Hub Coffee Shop.
"We invite you to 'Do Art!' This festival has an open and adventurous 'learn-by-doing' vibe. We provide free art supplies and guidance, so you and your family can play! You can take home whatever you create. And this year we have some new activities, and are including our new Library Learning Commons as a venue." said festival chair Ben Moffat.
The festival's emphasis is on "doing" art. WCC art professors, instructors and their students will be on hand (with supplies provided!) to assist those who want to express their creativity in a variety of ways-from painting, drawing, and sculpting to moving, acting or making music, prints, masks, poetry and prose. A sampling of creative activities include:
Music workshops with Sojin Kimura
Gymnastics with Sarah Hadmack
Garage Band with Renee Arakaki – Making music on your computer
Pottery Wheel for Kids with Paul Nash
Camera Obscura with Mark Hamasaki
Open Drawing Studio with Norm Graffam – draw or have your portrait drawn
Poetry with Janine Oshir
Woodcarving with Jordan Souza
Hawaiian fiber art with Lufi Luteru
Clay sculpture with Bryce Meyers
Stage Combat with Nick Logue
Mask making with Yukie Shiroma
Screen printing with Rob Molyneux-bring your own shirt to be printed or buy one
Styrofoam printing with Christina Weisner
Printmaking with the Honolulu Printmakers
Acting with Taurie Kinoshita
Screenwriting and fiction writing workshops with Chris McKinney & Desiree Poteet
Kanikapila with Ka'ala Carmack & Kamuela Kimokeo-bring your instrument or voice
Raku Firing Demonstrations, and much more!


PALIKŪ THEATRE
Palikū Theatre will feature FREE performances of music and drama throughout the day.

IMAGINARIUM
The Hōkūlani Imaginarium will be showing Secrets of the Dragon, a family-friendly fulldome show with a nominal fee of $3. PLUS, a FREE special event presentation of Music of the Spheres, a 20-minute contemporary visual and musical art show produced by Ebb & Flo Arts on Maui, appropriate for all ages.
 


GALLERY 'IOLANI
At Gallery 'Iolani, a new exhibit interior features installations by artists Mark Chai, Maura Fujihira, Keiko Hatano, Sally Lundburg, Mary Mitsuda, Chusak Majarone, Deanna Itano and Kamaile Puaoi. Or, attendees can observe art at work with demonstrations in open studios-painting, piano, ceramic and photography labs-in Hale Pālanakila.
 


LIBRARY LEARNING COMMONS
WCC's new "green" campus library will be open for self-guided tours from 10-2 p.m. Folks can grab a cup of coffee at The Hub Coffee Shop in the library and wander through the three-story library or sit in on storytelling for the whole family.
 
MUSIC
On stage, a variety of musical acts will perform, including The Royal Hawaiian Band, The 111th Hawai'i Army National Guard Band, The Robert Joyce Experience, rock band Alice Neel, featuring Dieter Runge, The University of Hawai'i Saxophone Choir, The Kailua High School Band, and other Windward musical and stage talent.
For more information, go to www.palikuarts.com or contact Palikū Arts Festival co-chair Rob Molyneux, rmolyneu@hawaii.edu or Bonnie Beatson, 235-7374, beatson@hawaii.edu.