By Staff Reports
(KAPA'A) – The Department of Water (DOW) held a blessing ceremony on July 31st, to commence the Kapa'a Homesteads Well No. 4 Project in Kapa'a.
"The Kapa'a Well No. 4 Project will address source needs and strengthen the Kapa'a water system for our customers and the community," said Dustin Moises, DOW's chief of construction management. "I would like to thank State Representatives; former Representative Derek Kawakami and current Representative Nadine Nakamura for their efforts towards acquiring state funding for this project, in addition to the County of Kaua'i, its council members, our DOW staff, design consultants, contractor Earthworks Pacific, Inc. and subcontractors for working diligently together to bring this Water Plan 2020 Project to life for the people of Kaua'i."
The Kapa'a Homesteads Well No. 4 Project is part of the DOW's Water Plan 2020, a comprehensive long-range plan that addresses the need to upgrade aging infrastructures and water system improvements on Kauai.  Work will include the development and drilling of a new well source for the Kapa'a water system and a drainage package that will incorporate the installation of approximately 3,550 linear feet of an 18-inch reinforced concrete drainage line and a retention system.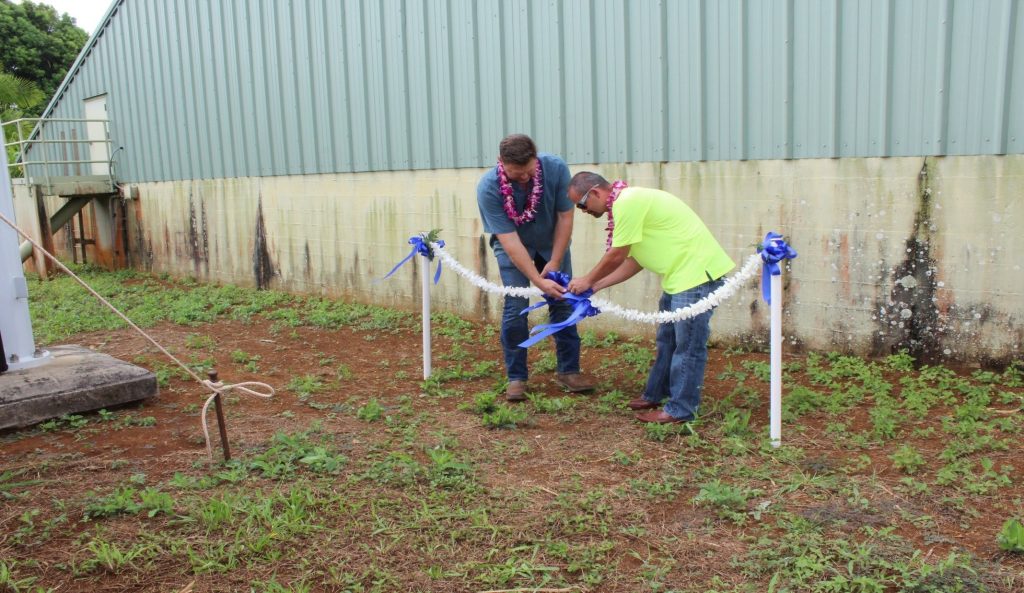 The construction contract was awarded to Earthworks Pacific, Inc. in the amount of $2,176,400.00; of that amount, $750,000.00 was granted from state legislative funding. The project will also serve as the potential building block to future construction of two, half-million gallon tanks to increase the storage capacity for the Kapa'a Water System.  Installation of the tanks will be scheduled upon development of the well.
The subcontractors involved in this project include Duct-Ter Sheet Metal LLC, Harry Asato Painting, Inc., Maui Kupono Builders LLC, Oasis Water Systems, Inc., T Masaniai Contractors and Wellington Fence Co.  Reverend Jade Waialeale-Battad of Ke Akua Mana Church officiated the blessing ceremony over the project site in Kapa'a.
For more information on the Kapa'a Homesteads Well No. 4 Project, contact the Department of Water at 245-5461.