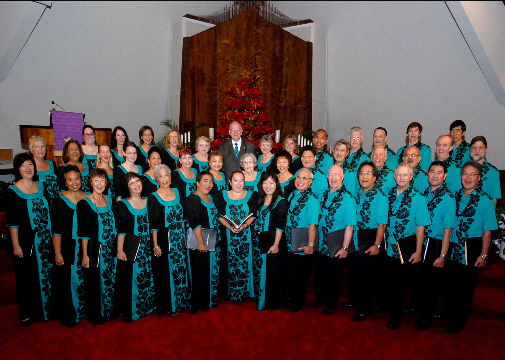 By Staff Reports
(Honolulu) – The Honolulu Chorale will present its annual spring concert, One World: Songs of Hawaii's People, on Saturday, May 26, 6:30 p.m., at the City's Mission Memorial Auditorium, 550 South King Street. The concert will feature selections in Hawaiian, Japanese, Chinese, and English in celebration of the music of Hawaii's people. The string quartet Ensemble Manoa will also perform.  The concert is free and open to the public.
In its 46th year, the Honolulu Chorale is one of the oldest non-audition community choruses in Hawaii.  Its members come from all walks of life and range in age from teens to octogenarians.  During the past 15 years, under the leadership of Musical Director Joseph McAlister, the Chorale has toured the neighbor islands, Europe and Japan.
It presents two major concerts each year in addition to performing at care facilities and retirement homes, and sponsors a Community Chorus Festival.  The organization is supported by membership dues and donations, grants from the Hawaii State Foundation on Culture and the Arts and other philanthropic organizations.  For more info visithttp://www.honoluluchorale.org.