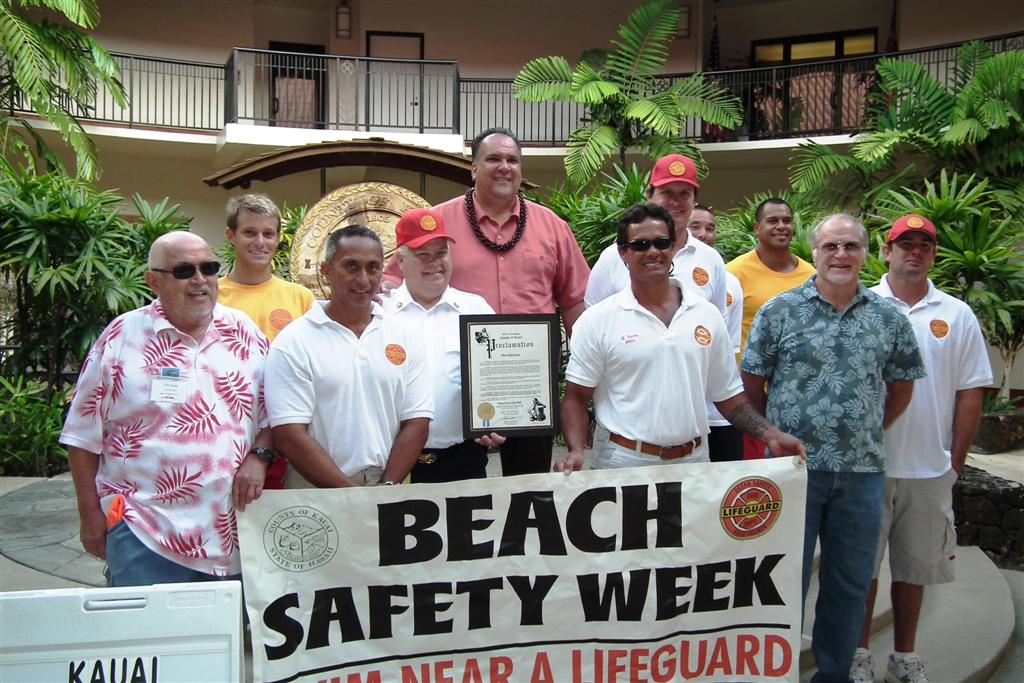 By Staff Reports
(Kauai)– Mayor Bernard P. Carvalho, Jr. held a proclamation ceremony in honor of National Beach Safety Week yesterday at the Lîhu'e Civic Center, Mo'ikeha Building.
The Kaua'i Fire Department's Ocean Safety Bureau (OSB) participates in the annual event to help promote ocean safety awareness and incident prevention.
"Kaua'i has some of the most stunning beaches in the world," stated Mayor Carvalho. "However, the ocean can be as dangerous as it is beautiful, and our lifeguards risk their lives every day to protect the public. We take this time to thank them for all that they do."
Ocean safety officials were praised for using innovative measures to promote Kaua'i's guarded beaches as safe destinations for residents and visitors.
"Our lifeguards are dedicated to reducing the number of drownings on Kaua'i and keeping our beachgoers safe," said Ocean Safety Bureau Supervisor Kalani Vierra.  "With the help of our visitor industry and many community advocates, we have come a long way in achieving that goal, and we are very grateful for the support."
The Ocean Safety Bureau takes this opportunity to remind residents and visitors to never swim alone, always swim near a lifeguard, respect the power of the surf, and learn to swim.