By Staff Reports
(Honolulu)– In one of the most ambitious and far-reaching stage productions it has ever created, Honolulu Theatre for Youth will close its 59th season with the world premiere of a multi-media musical, GRINDS: THE STORY OF FOOD IN HAWAII.
The show opens Friday, April 4 at 7:30 p.m., then continues Saturdays, April 5, 12, 19 and 26, May 3 and May 10 at 4:30 p.m. All shows are at Tenney Theatre. Tickets are $20 for adults (age 18-59), $15 for seniors (age 60+) and $10 for youth (age 2-17), see www.htyweb.org or call 839-9885.
GRINDS is an HTY company-created piece which focuses on everyone's favorite subject: food in Hawaii. Starting in ancient times, traveling through plantation days, and ending up right here in the present, HTY actors guide audiences through an epic food journey featuring music, video and live cooking onstage. They'll meet Hāloanakalaukapalili, the first Kalo plant, explore what it means to "chance 'um" with some goofy plantation workers, watch produce from local farmers get prepared into delicacies right on stage, get a a workout helping to churn butter and pound poi, and take a trip to Ecuador with a very busy banana.  Chef Ed Kenney of town restaurant consulted on the cooking portions of the show.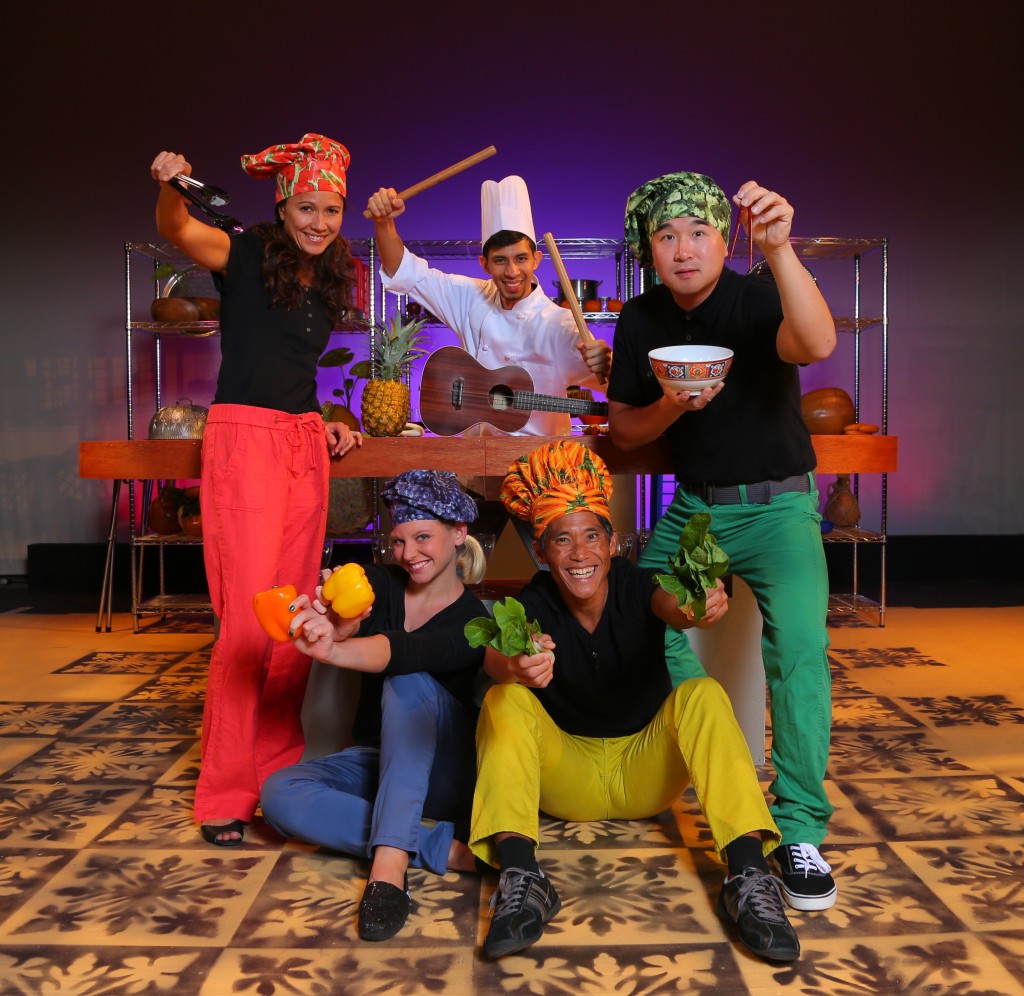 Artistic Director Eric Johnson said, "GRINDS represents HTY's belief in using performance as a tool to connect the myriad different groups and issues in Hawaii: food, culture, health, diversity, the benefits of trying something new, the importance of keeping things close to the source. All of this comes together in one incredibly energetic, hilarious, insightful piece that we hope will get children and families thinking in new ways about the food that nourishes us."
GRINDS offers a cornucopia of unique experiences as part of the show:
Audience members are asked to bring a locally grown fruit or vegetable and participate in a pre-show procession that delivers the produce to the stage.
Some audience members will help with the produce's actual preparation on stage, churning butter from cream or pounding poi.
Some will get a chance to sample the dishes that are created onstage.
Two breadfruit trees will be given away at each show via a drawing, courtesy of the Ulu Project.
Chef's aprons with the HTY GRINDS logo and the GRINDS CD will be available for sale.
Actors are Alvin Chan, Maile Holck, Max Louie, Samantha Stoltzfus and Junior Tesoro. Set, props and light design is by David Gerke; video design is by Chesley Cannon; costume design is by Sandra Payne; sound design is by Max Louie.
Show sponsors are the National Endowment for the Arts, the Hawaii State Department of Agriculture, the Hawaii State Department of Health, HMSA, the Kokua Hawaii Foundation and the Johnson Ohana Charitable Foundation.
Honolulu Theatre for Youth is Hawaii's non-profit professional theatre company providing theatre and drama education programs that make a difference in the lives of Hawaii's young people and families. Founded in 1955, HTY is recognized the world over as one of America's most honored theatres.