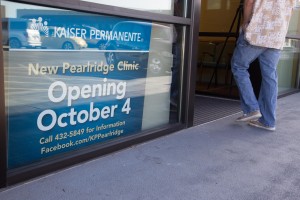 By Staff Reports
(Honolulu)–Kaiser Permanente staff and physicians welcomed patients to the brand new Pearlridge Clinic on Friday. The 7,000-square-foot clinic offers area residents the convenience of receiving care for the whole family all in one location close to home and work.
As demand grows for medical care and services in the area, the clinic facility is capable of expanding by an additional 5,000 square feet. The location of the new clinic on the third level of Pearlridge Center Uptown makes it convenient, with abundant parking and an easy-to-find entrance facing Moanalua Road.
Kaiser Permanente's new Pearlridge Clinic will be open Monday through Friday from 8 a.m. to 5 p.m., and on Saturday from 8 a.m. to 12 p.m. For information on patient services, the public can call 808-432-5849 or visit kp.org.
The new Pearlridge Clinic is one of several expansion projects underway by the state's largest integrated health care organization. The new Koolau Clinic in Kaneohe is due to open October 24, and in Kona, a new state-of-the-art 40,000 square foot medical campus is schedule to be completed by the middle of next year.
Kaiser Permanente Hawaii has provided total health to the people of Hawaii for more than 50 years, with physicians who are members of the Hawaii Permanente Medical Group, the largest multi-specialty physician group practice in the state of Hawaii. Kaiser Permanente is dedicated to care innovations, clinical research, health education and the support of community health. Visit kp.org for additional information. Become a fan of good health with Kaiser Permanente Hawaii: Like our page at Facebook.com/KPHawaii and follow @KPHawaii on Twitter.