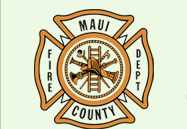 By Staff Reports
(Maui)– The County of Maui Department of Fire and Public Safety announced the promotion of two battalion chiefs this month.
Travis Tancayo has been with the department for 23 years and has worked everywhere from Hana to Napili and from Lanai to Kaunakakai. Tancayo was promoted to Battalion Chief on March 16, 2012 and has since been assigned to the 2ndbattalion, which oversees seven stations on Maui, Molokai and Lanai.
Petronilo Garces was also promoted to Battalion Chief on March 16 after 24 years of service. Garces has worked in Kaunakakai, Paia, Kahului, Napili and Wailuku. Since being promoted he has been assigned to the 1stbattalion which oversees the seven Maui based fire stations.
Other recent promotions include Scott Martin and Gale Notestone to the rank of Captain. Notestone has 18 years of service and was voted Fire Fighter of the Year in 2001. He is currently stationed at the Hoolehua Fire Station. Martin has been with the department for 12 years, much of which was spent at the Kihei Fire Station. Upon his promotion Captain Martin was reassigned to the Kaunakakai Fire Station.
Fire fighters Moses Regidor, Jeffery Watanabe, Zachary Crowder and Larry Rawlins were all also promoted to the rank of Fire Fighter III as of Feb. 16, 2012. Regidor, Crowder and Rawlins will all be assigned to Molokai fire stations while Watanabe is assigned to the training division.
Congratulations to all those promoted and thank you for your continued service.