By Staff Reports
(Honolulu)– This summer, thanks to the Lowe's Foundation and Making Dreams Program, the Boys & Girls Club of Hawaii-Charles C. Spalding Clubhouse received a $25,000 makeover.  The Spalding Clubhouse is one of 20 Clubs across the nation awarded the grant, which provided updated program spaces for the 900 youth members who currently attend that Club.
The renovation included a complete overhaul of the Club's two kitchens. New countertops, cabinets and appliances were installed.  Additionally, the Club's Games Room was completely renovated to include a new countertop storage space and new furniture for youth.  Finally, the entire lobby was repainted and new floors were installed on the first floor.
As the need to update facilities increases and maintenance costs rise, Lowe's support is committed to making critical improvements to ensure the Club remains a safe and inviting place for Honolulu's youth.  Club volunteers and local community members including Club parents Teddy Tadaki, John Westbay and Linda de Alba Chu and their crew of support, plus military volunteers Kevin Perez, Stephanie Torres and their friends worked alongside local Lowe's Heroes employees to complete the Club renovation project. Sherwin Williams donated the paint.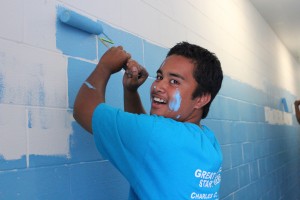 The youth are excited about the updates and were glad to help with the painting.  After the refurbishment, they were shocked to see how nice the Club looked!  "Our Club looks amazing thanks to the Lowe's Foundation and it is so much more functional" said Natalie Pawluk, Charles C. Spalding Clubhouse Director.  "The kids love using the new kitchens for healthy cooking programs, and the Games Room is much safer and cleaner thanks to the renovation."
Since 2009, Lowe's has contributed $5 million in grants to the Boys & Girls Clubs of America and its Clubs nationwide, as well as thousands of volunteer hours to fund improvements at more than 100 Clubs.  In 2013, Lowe's support helped update more than 20 Clubs with improvements that reflected a variety of facility needs, ranging from renovating a soccer arena to rebuilding restrooms. 
About Boys & Girls Club of Hawaii
The Boys and Girls Club of Hawaii (BGCH) is a non-profit organization dedicated to inspiring Hawaii's youth to become responsible citizens.  BGCH serves over 14,000 youths ages 7-17 at  sites on Oahu and Kauai with a focus on academic success, good character and citizenship, and healthy lifestyles.  Annual membership is made affordable so that every child can join.  For more information on BGCH, call 949-4203 or visit www.bgch.com.
About Lowe's
Lowe's, a FORTUNE 100 home improvement company, has a 50-year legacy of supporting the communities it serves through programs that focus on K-12 public education and community improvement projects.  Since 2007, Lowe's and the Lowe's Charitable and Educational Foundation together have contributed nearly $200 million to these efforts, and for more than two decades Lowe's Heroes employee volunteers have donated their time to make our communities better places to live.  To learn more, visit Lowes.com/SocialResponsibility and LowesInTheCommunity.tumblr.com.