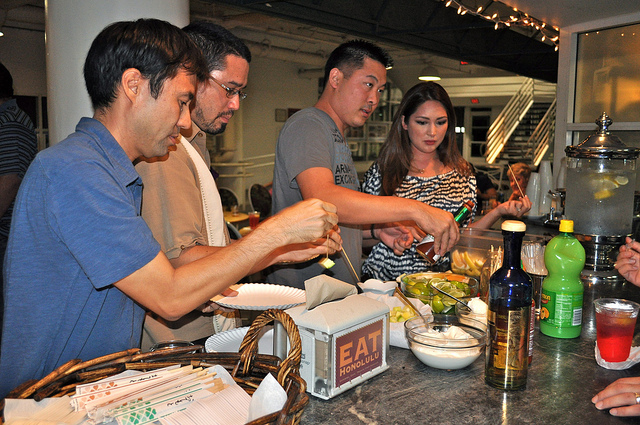 By Miguel Gonzalez
Editor
A taste extravaganza took place recently at the trendy Eat Café in Honolulu and guest were taken on a "sweet" ride all in the name of charity C.H.E.F.S Hawaii.
The event, organized by Kyle Shimoda, Lori Kohara as well as Eat Honolulu's owners Dave and Jocelyn was a complete success in raising money for Shimoda's "Catering, Healthy, Eating, Food Solutions a.k.a. C.H.E.F.S Hawaii.
A large gathering of distinguished guests was treated to taste an array of delicious foods, including a "flavor tripping" session with a little known "miracle berry".
The miracle berry or synsepalum dulcificum is a plant with a berry that, when eaten, causes sour foods (such as lemons and limes) subsequently consumed to taste sweet.
This effect lasts until the protein is washed away by saliva up to about 60 minutes.
Guests could not believe how sweet sour foods tasted and many said they had not experienced such a fun food event.
Shimoda was said to be "berry" thankful to all guests and staff or organizers, who helped make this event a complete success.
_________________________
Special thanks to Carrie Tandal, Will Fernandez and Jason Yokoyama and Mike Miske at The Standard nightclub.
Picture Gallery: All pictures by Melanie Gonzalez, Managing Editor.