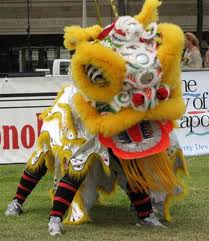 By Staff Reports
(Waikiki)– Ring in the Chinese New Year at Royal Hawaiian Center!  Celebrate with Lion dancing and a martial arts performance by Lung Kong Physical Culture Club on two days: Saturday, January 21 and Monday, January 23.  Performances will begin in The Royal Grove with a blast of firecrackers.  Feed the lions lisee (red money envelopes) to bring good luck, health and prosperity for the coming year and watch as the lions perform martial arts, engage in a lisee puzzle and dance around the Center visiting participating merchants.
For more information, call Lei Ohu Guest Services at (808) 922-2299 or visit www.RoyalHawaiianCenter.com.
WHEN: Saturday, January 21 – 3:30 p.m.
Monday, January 23 – 5:00 p.m.
PUBLIC PARKING: Royal Hawaiian Center has the largest garage in the heart of Waikiki with 10 levels of parking and more than 600 stalls. The parking garage entrance is located up the ramp on the right side of Royal Hawaiian Avenue. The Center's validated parking promotion offers first hour free parking with $1 per hour after that for up to 4 hours ($3 for 4 hours). Standard parking rates apply thereafter, at $6 per hour. Special event $5 parking validation is available at Lei Ohu Guest Services. No minimum purchase is required for validation.