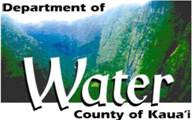 By Staff Reports
(HANALEI)– The Department of Water (DOW) is issuing a water conservation request for the Hanalei community  from 9 a.m. to 6 p.m., on Wednesday, Nov. 20. Area residents are asked to limit water consumption to essential uses only.
Princeville Utilities Company, Inc. will be providing residents with water while DOW contractors connect the new water line into the Maka Ridge Facility. Hanalei residents and businesses should still expect low water pressure.
Essential needs include: cooking; bathing; and toilet flushing. Water conservation measures include: refraining from car washing; reducing outdoor irrigation; and using water wisely indoors and outdoors.
Residents are also asked to notify their neighbors of this request and encourage their participation.
The DOW thanks Hanalei residents and visitors for conserving water during this time and for their patience as the department continues Water Plan 2020 – a comprehensive long range plan to replace or repair aging infrastructure so customers can continue to be provided with safe and affordable water.
For more information, please call the Department of Water at 245-5455 during business hours, 7:45 a.m. to 4:30 p.m., or Police Dispatch at 241-1711 after business hours.