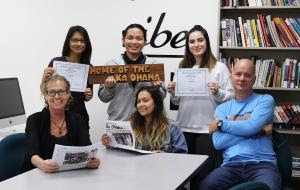 By Staff Reports
(Hawaii)– Windward Community College's student newspaper, Ka ʻOhana, was named Most Outstanding Community College Newspaper for 2017–2018 by the American Scholastic Press Association (ASPA). It also received First Place with Special Merit in ASPA's annual scholastic newspaper awards, a designation given to a publication that scores more than 950 points (out of 1,000) and, in the opinion of the judges, was an "outstanding overall example of a scholastic publication in format, content and presentation."
In its award letter, the ASPA reviewer commented, "The time and effort of a staff coming together regularly to represent the school and local community is a monumental task, and I congratulate you for your fine effort."
The newspaper is produced through the JOUR 285V Newspaper Lab course with support from student publications funds. It is published monthly, eight times a year, with a hiatus during the summer. Ka ʻOhanais available online.
"I'm so proud of our student staff. We had a small staff this year, but the students were incredibly dedicated and enthusiastic," said Kimberlee Bassford, journalism instructor and Ka ʻOhana adviser. "While each student had to pitch his or her own story ideas, go out on campus or into the community to do the reporting and take the photographs, and then do the writing and layout, they also supported one another and became friends along the way. Our publication's name is so fitting as the staff really came to embody that ʻohana spirit."
For more information about the journalism and creative media programs at Windward Community College, contact Kimberlee Bassford at 808-235-7396 or kbassfor@hawaii.edu.