By Staff Reports
(HONOLULU) – A swell of community support carried the 2021 Kapi'olani Radiothon for Kids to a record $575,615 finish, making the event's 15th anniversary a remarkable milestone. It's the largest amount raised in the event's history, surpassing last year's record of $427,575 by nearly $150,000.

The two-day broadcast fundraiser for Kapi'olani Medical Center for Women & Children started with KSSK 92.3 FM/AM 590 in 2007 and has been a tradition ever since, with the community's generosity growing year after year. Especially during this COVID-19 pandemic, Hawai'i has shown that its commitment to children is greater than ever.

"This is what aloha is," said Scotty B, KSSK radio personality. "Recently, in one way or another [because of the pandemic], all of us have been touched by tragedy or challenge and a helpless feeling, which kind of puts us in the frame of mind of what goes on at Kapi'olani every day. The Radiothon is a very precise way that you can give and do something. It's about giving even when you don't really have a lot of extra, because someone else needs it more."

In light of the COVID-19 pandemic and in consideration of the safety and health of everyone involved, the Radiothon was held virtually for the second straight year. KSSK radio personalities were broadcasting from the station's studios while families and volunteers engaged remotely online and Kapi'olani's staff members took donation calls from the medical center. It was the first time that the phone banks were staffed completely by employee volunteers. Many of those who signed up came on their own time so they could still support their patients.

Also a special first this year was a phone bank shift made up of all doctors who volunteered to help before starting their own work day. It made for an inspiring exchange for both the donors and the doctors.

"It was so incredible," said Dr. Randall Wada, pediatric oncologist and hematologist at Kapi'olani Medical Center for Women & Children. "I myself had a family connection with the services of Kapi'olani and it's really impressive to see just how the community feels about the medical center. They recognize that it's a resource and it needs to be protected and supported. My thanks to the donors as that kind of support allows me to do my job."

The greatest show of support in dollars this year was a surprise $100,000 donation to Kapi'olani from UHA Health Insurance. The gift is the biggest in the event's 15-year history and the first-ever, six-figure donation.

The announcement of this groundbreaking donation was made live on air, and was extra special for KSSK personality Michael W. Perry, who has been at every Radiothon since the event's inaugural year in 2007. The unexpected reveal was a complete surprise to the KSSK team and was met with cheers and tears from Perry and the Posse, who along with KSSK have dedicated years to making the Kapi'olani Radiothon for Kids one of the most successful fundraisers for the Kapi'olani Children's Miracle Network.

"When this Radiothon began, nobody had any idea it was going to get this big," said Michael W. Perry, KSSK radio personality. "What an amazing ride this has been! The $100,000 donation from UHA Health Insurance was unthinkable when we started 15 years ago and here we are. The synergy for this event is incredible. This KSSK radio audience does things that no other audience does, then you combine that with the goodwill of Kapi'olani through the years – that together is magical."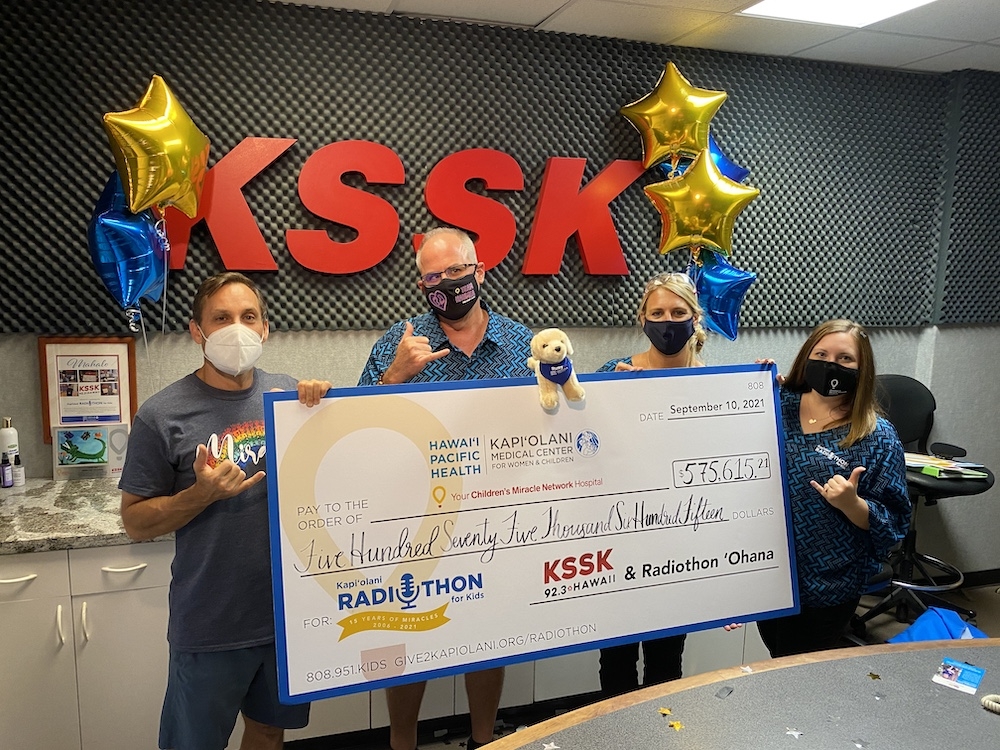 UHA's incredible generosity comes at a time when health care matters even more to people as the state and the rest of the world continues to face the COVID-19 pandemic. As Hawai'i's only full-service children's hospital, Kapi'olani Medical Center for Women & Children provides for both COVID and non-COVID health care needs for children from Hawai'i and the Pacific region.

"Because UHA was founded by physicians, we have built lasting relationships with not only our members, but also with Hawai'i's hospitals," explained UHA President and CEO Howard Lee. "Our ties with Kapi'olani Medical Center have grown even closer over recent years as our own associates have helped raise money for its many worthy programs to support greater community health."

With 166 employees, UHA has a long history of supporting Kapi'olani for more than a decade. UHA has also been a part of the Radiothon both as a sponsor and as a volunteer phone bank team with its staff taking donation calls that help generate much-needed funding for Kapi'olani.

"Our associates really have a heart for giving and this gives them an opportunity to extend their gratitude and contribute in a meaningful way," said Suzanne Eugenio, Director of Marketing of UHA Health Insurance. "The work that Kapi'olani does touches so many of us. At UHA, we strive to make healthcare simpler and more caring, and partnering with Kapi'olani Medical Center allows us to fulfill that purpose."

UHA is one of many community organizations and businesses that stepped forward to show their support for Kapi'olani during the annual Radiothon. This year's sponsors include D. Suehiro Electric Inc., Bank of Hawai'i, First Hawaiian Bank, AlohaCare, Windward Auto Group, Clinical Labs, Farmer's Insurance, Motiv8 Foundation, HMSA, Coca Cola Odom Corp., Swinerton, Raising Cane's, Enterprise and Atlas Insurance.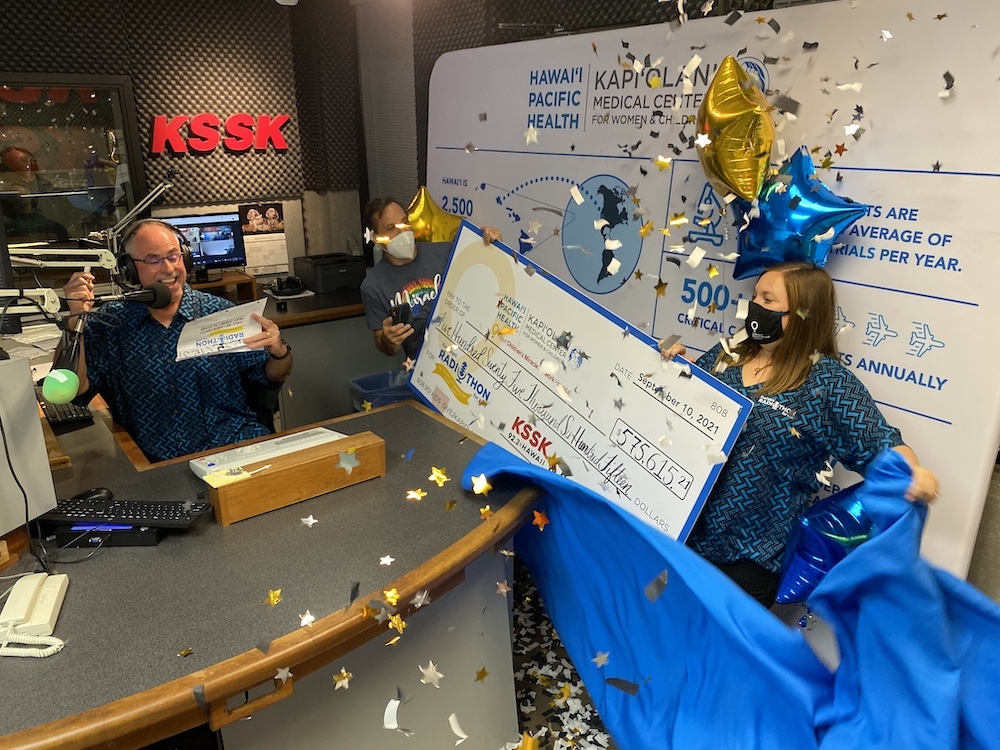 The presenting sponsor for the 2021 Radiothon for Kids is D. Suehiro Electric, Inc. Year after year, the local electrical company and its staff get involved with Radiothon. To commemorate D. Suehiro Electric's 2021 donation and passion for education, part of its sponsorship funding will be used toward a School Supply Station for Kapi'olani's Brain Station, the classroom space for hospitalized kids to keep up with their schoolwork while undergoing treatment.

The new School Supply Station was among a number of Kapi'olani wish list items that were granted because of Kapi'olani Children's Miracle Network funding that results from the Radiothon gifts. Other wish list items unveiled during the two-day event were giant remote control cars for kids to use at the Rehabilitation Department, strollers for transporting patients and/or their siblings, and plush Ruby dolls, which are miniature stuffed toys that look like Kapi'olani's new hospital facility dog.

Another special wish list item gifted was a bookshelf on wheels for the Neonatal Intensive Care Unit (NICU). To fill the bookshelf, 150 books were chosen to celebrate the Radiothon's 15th anniversary and will be directed to the NICU's Books for Babies program. Many of the infants cared for in the NICU have long stays in the hospital or a long recovery ahead and these books help to add impactful story-time during those early days or months of life.

"For babies, hearing someone read books to them in the early few thousand days of life is incredibly important," said Dr. Kara Wong Ramsey, neonatologist at Kapi'olani Medical Center for Women & Children. "This is a critical time for the brain's development. Studies have shown that infants who were read to at an early age are more likely to have better language development and literacy skills in the future."

Experiences like that in the NICU and throughout Kapi'olani were featured live on-air during the course of the 28-hour broadcast. Patients and their families shared touching stories about how Kapi'olani cares for some of the most medically fragile children and supports many kids who require specialty services.

Event organizer iHeartMedia Honolulu is proud of the Radiothon's impact on the local community as Kapi'olani fulfills its mission of creating a healthier Hawai'i. All Radiothon donations support Kapi'olani, Hawai'i's only Children's Miracle Network (CMN) Hospital, with 100 percent of every dollar raised staying in the islands to help local keiki with programs and services that would not otherwise be possible.

These gifts help support exceptional care and innovative research at Kapi'olani that can keep Hawai'i families close to home for their medical care. As a not-for-profit medical center, Kapi'olani treats kids no matter their illness or injury regardless of a family's ability to pay.

For those who still want to, you can donate to the Kapi'olani Radiothon for Kids, go online to Give2Kapiolani.org/Radiothon,