By Staff Reports
(Oahu)– Noe, with acclaimed Japanese Italian Chef Ryo Takatsuka at the helm, has earned a reputation for simple food, perfectly prepared. Now, in an exclusive dining experience, the young chef joins forces with Chef Donato Loperfido, the master of Italian cuisine in Hawaii, to present the flavours of Italy in an exquisitely prepared five course dinner with wine pairings served under the stars at Four Seasons Resort Oahu at Ko Olina on May 18, 2019.
Boasting a chic, intimate setting on Oahu's leeward coast, Noe entices culinary enthusiasts with its tranquil romantic Capri-meets-Oahu ambiance and the beguiling flavours of Italy's southern shores. In dishes inspired by local seafood and distinctive coastal flavours, the two chefs infuse the flavours of olives, tomato, beet, arugula, clams and porcini mushroom, white asparagus and truffles, paired with an unrivalled selection of Italian wines hand-picked by Chef Donato and Simone Orlandini, General Manager at Noe.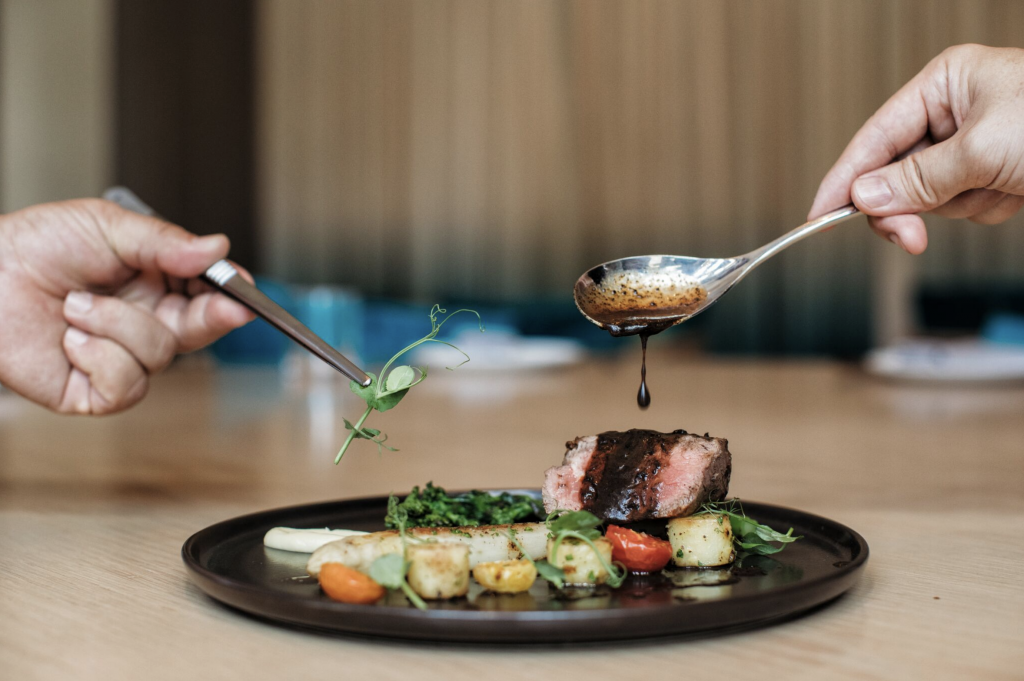 Guests will enjoy ahi, with an apple Cantina del Taburno Falanghina 2017, stracciatella with a Fattoria Moretto Lambrusco di Castelvetro Secco NV, risotto with a Dolcetto di Dogliani Superiore 2016, beef filet with San Felice Vigorello IGT 2013 and pistachio panna cotta, raspberry rose gelee, vanilla mascarpone cream, dark chocolate, raspberry pearls with Pisa liquor.
Tickets to the Noe Guest Chef Dinner are USD 175 per person and guests are invited to take the elevator home with a special kama`ainaroom rate of USD 355 per night and USD 20 valet parking.  Reservations are available by calling 808 679 0079.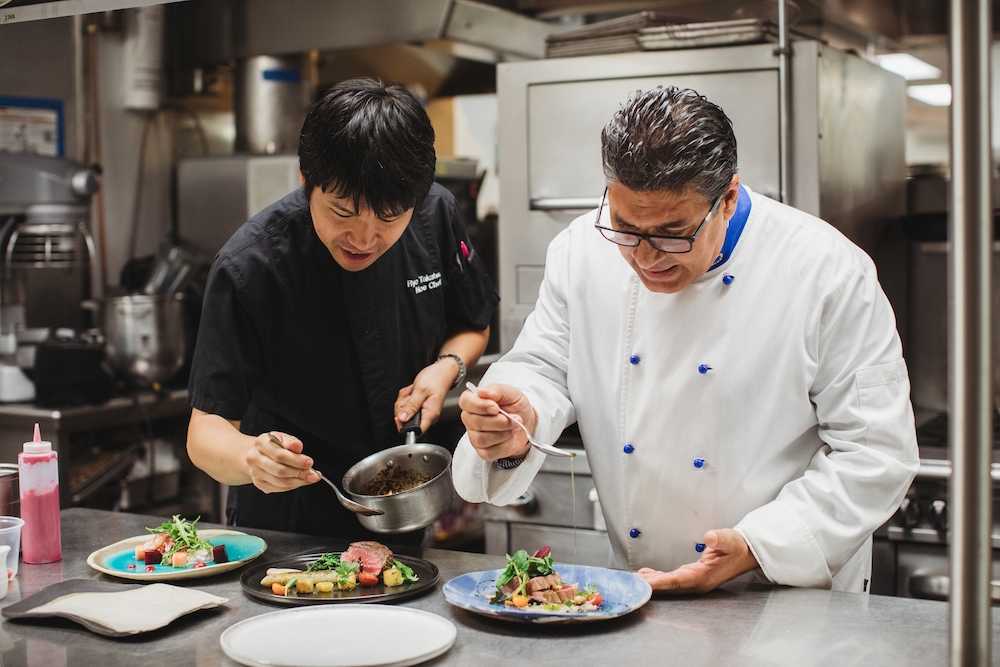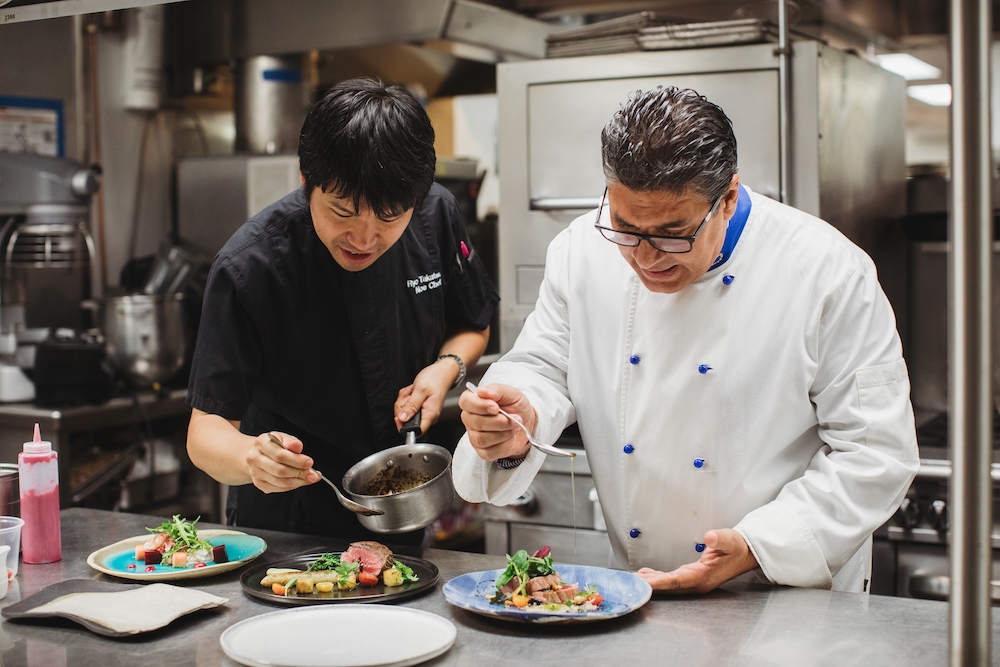 About Chef Ryo Takatsuka
From his childhood home of Toyama, a coastal city along the Sea of Japan, Chef Ryo Takatsuka felt an inquisitive draw to the kitchen and a fascination with the culinary arts. Shortly after high school, a young, passionate Takatsuka boldly moved to Tuscany, straight into the kitchens of Pistoia and Siena, and immersed himself in the local cuisine.
The young chef spent the next ten years in Italy, mastering the heart and essence of Italian cuisine at restaurants including the acclaimed Ristorante Il Sogno di Angelo in La Spezia and Hotel Eden La Terrazza in Rome. He found his mentor in Chef Giancarlo Perbellini in Verona, working his way up to sous chef, elevating the restaurant with the achievement of two Michelin stars.
In 2008, Chef Ryo returned to his native Japan to assume his first chef de cuisine position as head chef for the highly acclaimed Ristorante Yamazaki in Tokyo.  He attained an award-winning reputation for authentic Italian cuisine and in 2016, arrived at Noe restaurant at Four Seasons Resort Oahu as Chef de Cuisine at Noe.
Chef Donato Loperfido arrived in Hawaii in 1985 after graduating from the Scuola Alberghiera di Castellana Grotte and attending culinary internships in Neufchâtel, Switzerland, Frankfurt, Germany, and Rome, Italy. After two years as chef de cuisine at Baci Restaurant in Honolulu, he made the bold move to New York and assumed the role of sous chef at the famed Milanese Bice Ristorante and then opened Le Madri with restaurateur Pino Luongo.
He returned to Hawaii and was appointed executive sous chef at the Sheraton Waikiki and was then offered the role of executive chef at the Hilton Waikoloa, Donatoni Restaurant, returning to Honolulu to become the executive chef of Sarento's at the Ilikai Hotel. In 1999 Chef Donato opened his first restaurant, Donato's Ristorante e Carpacceria and consulted with Four Seasons Resort Maui at Ferraro's Restaurant in Wailea  to create a new and exciting Italian menu.
In 2003 Chef Donato opened his second restaurant in Manoa, Donato's Ristorante and in 2005 Pasta & Basta was born in Restaurant Row in Downtown Honolulu. In 2008 He opened Elua, a collaboration with Chef Philippe Padovani, one of the founding members of Hawaii Regional Cuisine.
Hawaii has been Chef Donato's home for more than 35 years and he has become "a true ambassador of Italian cuisine in Honolulu." He founded Flavors of Italy Wine Merchants in 2005 to supply Hawaii with not only niche Italian wines, but European wines true to type, place and passion. Donato takes pride in the products he sells and everything is hand-picked, "wine and food is our way of life."