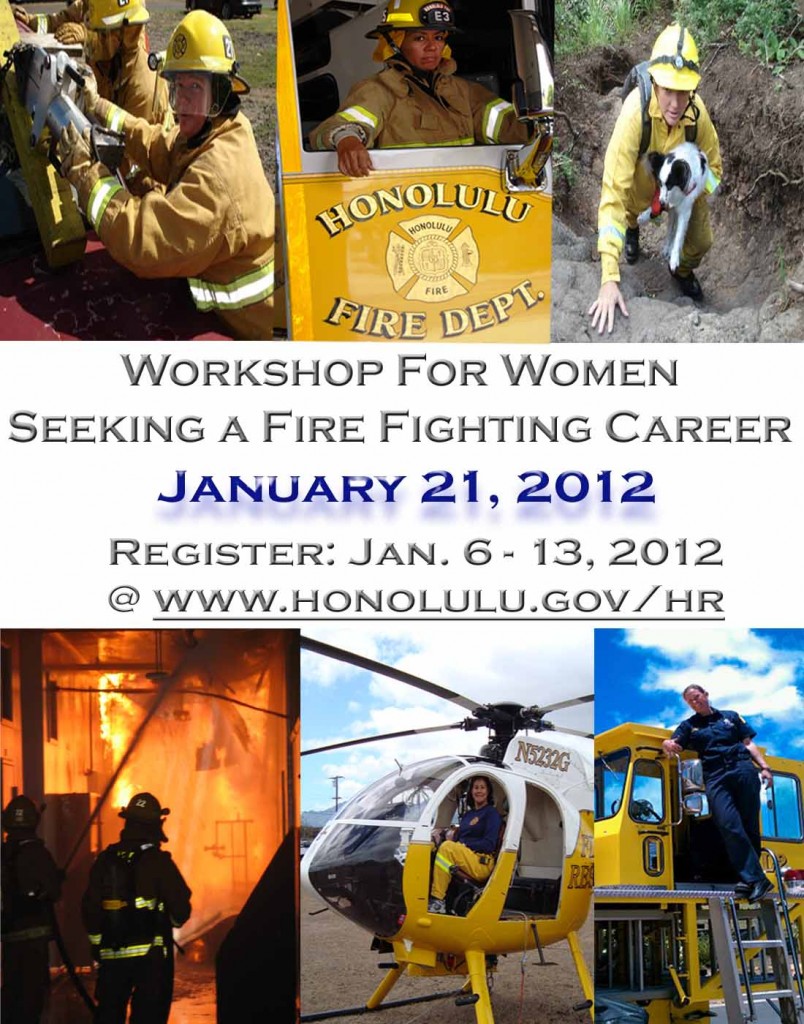 By Staff Reports
(Hawaii) – The Honolulu Fire Department (HFD) and the Department of Human Resources will hold a series of three "Can You Take the Heat?" workshops on Saturday, January 21, 2012, at theCharlesH.ThurstonTrainingCenterat 8 a.m., 10:30 a.m., and 2 p.m.  Each session is free and expected to last approximately 90 minutes. Parking will be available at the rear of the building.
The workshop is part of a City andCountyofHonolulurecruitment initiative designed to increase awareness of fire fighting careers for women. Topics will include the online application process, HFD career opportunities, and the firehouse culture from a woman's perspective. Women are encouraged to learn more about a career with HFD by registering for one of the sessions.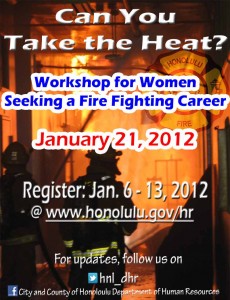 To register, visit www.honolulu.gov/hr between January 6 and 13, 2012. Registration is free and will close at 11:59 p.m. on January 13. Seating is limited and will be filled on a first-come, first-serve basis. Register early to ensure a seat is available, as only the first 95 registrations will be accepted for each session. Only registered individuals will be allowed to attend the seminar.
The City will be accepting applications for Fire Fighter Recruit (FFR) in early 2012. Applications must be completed online during the recruitment period. Interested applicants can prepare for the recruitment by visiting www.honolulu.gov/hr and creating a job applicant profile. In addition, potential applicants may submit an electronic Job Interest Card. When the FFR application period is opened, those registered for a Job Interest Card will receive an e-mail notification. Interested applicants may also follow us on Twitter @HNL_DHR or "like" our City and County of Honolulu Department of Human Resources Facebook page for updates on the FFR recruitment.