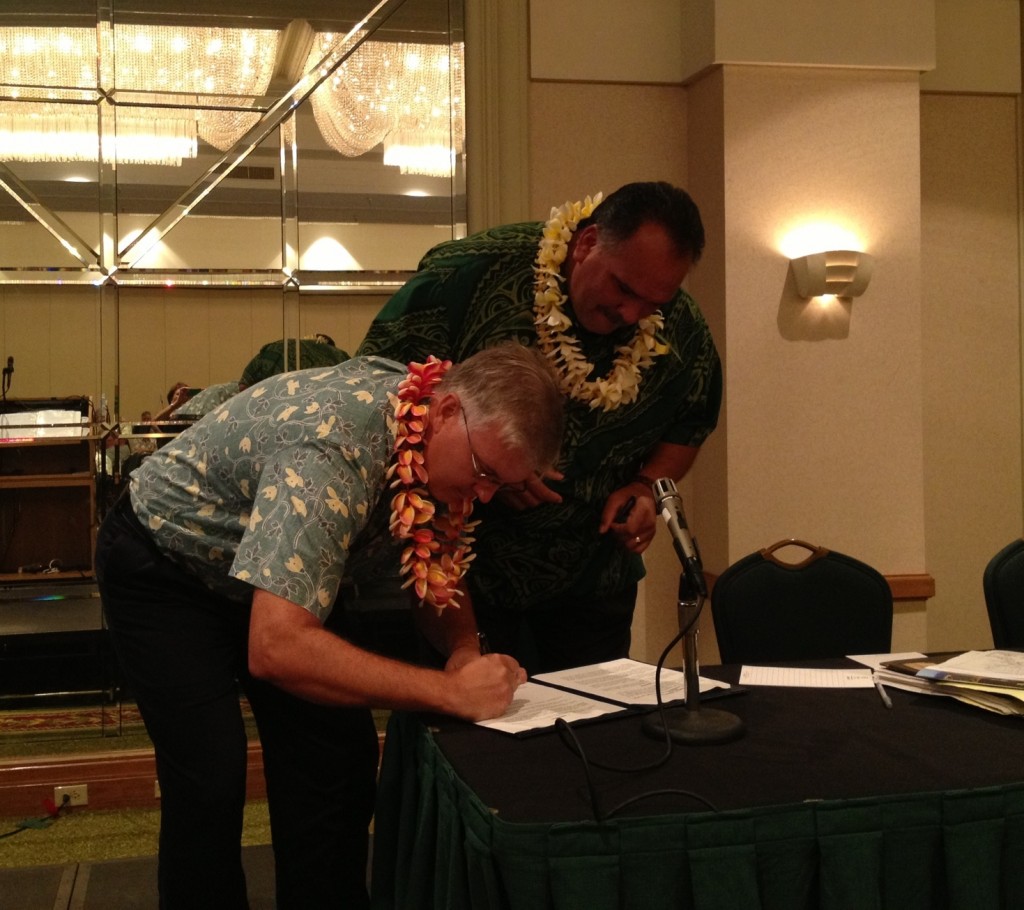 By Staff Reports
(Līhu'e, Kaua'i)– Kaua'i Island Utility Cooperative (KIUC) and the County of Kaua'i have signed a memorandum of understanding that commits the utility and local government to work together toward a goal of reducing the island's consumption of fossil fuels and lowering the cost of energy for its residents.
The agreement was announced jointly today by Mayor Bernard P. Carvalho Jr. and KIUC President and CEO David Bissell at the Kaua'i Economic Development Board's 2013 Energy Conference at the Kaua'i Marriott Resort and Beach Club. The memorandum was unanimously approved by the Board of Directors of KIUC at their July 30 meeting.
While KIUC and its predecessor, Kauai Electric, have worked with the county since the 1980s on energy-efficiency initiatives, the new agreement makes a priority of collaboration. The County of Kaua'i was KIUC's largest customer in 2013, consuming more than 20 million kilowatt hours of electricity at a cost of more than $8 million.
"Kaua'i is blessed as the only island in the state to be served by a utility that is a member owned cooperative," Mayor Carvalho said. "We are committed to collaborating with KIUC on innovative ways to reduce our fossil fuel dependence and integrate more renewable energy on Kauai's grid."
Because imported oil accounts for 85 percent of the fuel used to generate electricity on Kaua'i, more than $100 million annually is sent off-island, a drain on the local economy. By working together, KIUC and county officials aim to reduce the amount of electricity consumed by the county and accelerate the island's transition to a more sustainable energy future.
KIUC's goal is to generate 50 percent of its power by using renewable resources by 2023. That could reduce the amount of oil consumed by KIUC by about 15 million gallons annually.
"This agreement puts in writing what's been happening informally – collaboration between the county and KIUC to put our best efforts toward reducing Kauai's oil dependency," Bissell said. "Mayor Carvalho's administration has been especially proactive on energy issues and his Holo Holo 2020 initiative is closely aligned with KIUC's own strategic plan to reduce utility bills, cut greenhouse gas emissions and increase our energy self-sufficiency."
KIUC and the county are already planning for the retrofitting of 2,800 county streetlights with LED fixtures. Other potential collaborative projects include joint development of a photovoltaic system and battery storage on county buildings, pilot programs on time-of-use rates, and electric-vehicle initiatives.