(KĀNE'OHE)– Gallery 'Iolani presents Crossing Cultures: The Art of Manga in Hawai'i.  This exhibition brings together Hawai'i based artists and writers who use manga to explore their cross-cultural experiences—telling stories that examine the history and cultures of Hawai'i. Manga is a distinctive form of Japanese comics known for its dynamic graphics and diverse narratives.
The exhibition includes an overview of manga's origins in Japanese art history including reproductions of scrolls and books that serve to influence the creative imagery of today's manga being created in Hawai'i.  The featured artists are Roy Chang and his moralizing illustrations for Cacy & Kiara and the Curse of the Ki'i; Jon J. Murakami, and his action drawings of Gordon Rider; Audra Ann Furuichi and Scott Yoshinaga's adorable series nemu*nemu; Marisa Torigoe's mysteriously rendered The Children of 'Aumākua; and Damon Wong's somber but hopeful graphics for Journey of Heroes: The Story of the 100th Infantry Battalion and the 442nd Regimental Combat Team, among many other manga artists and writers.  Displayed as a part of the exhibition and drawn just for this exhibit is a manga that chronicles its history and development into a worldwide phenomenon.
In addition to the Crossing Cultures: The Art of Manga in Hawai'i exhibition, special free public programs are scheduled as follows:
Sundays, September 8, 15, 22, and 29, from 2 – 4 p.m. Curator's Walk-Through and Artist Talks
Saturday, September 28, 10 a.m. – 5 p.m. open during Windward Ho'olaule'a.
Manga printmaking workshop by the Honolulu Printmakers, noon – 2 p.m. in front of the gallery
Daily in the gallery Hands-On Manga Art Activity
Free brochure handout with essays on manga art and its development in Hawai'i
Below is a detail of Marisa Torigoe's The Children of `Aumākua, one of many manga featured in the Crossing Cultures: The Art of Manga in Hawai'i exhibition: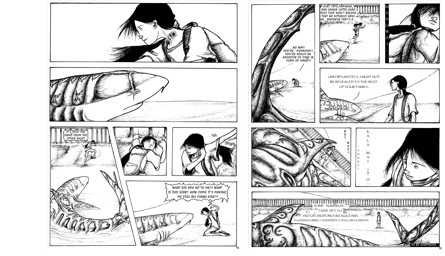 To learn more about this exhibition and Gallery 'Iolani, contact Toni Martin at (808) 236-9155, or toni-martin@hawaii.rr.com Visit the gallery website at http://www.gallery.wcc.hawaii.edu/. Gallery 'Iolani is located on the campus of Windward Community College and is recognized as one of the finest exhibition sites in the state of Hawai'i, showing work from local, national and international venues. The gallery also serves as a classroom for students studying gallery design and management at WCC. Gallery 'Iolani is located adjacent to Palikū Theatre in the Hale Pālanakila complex.