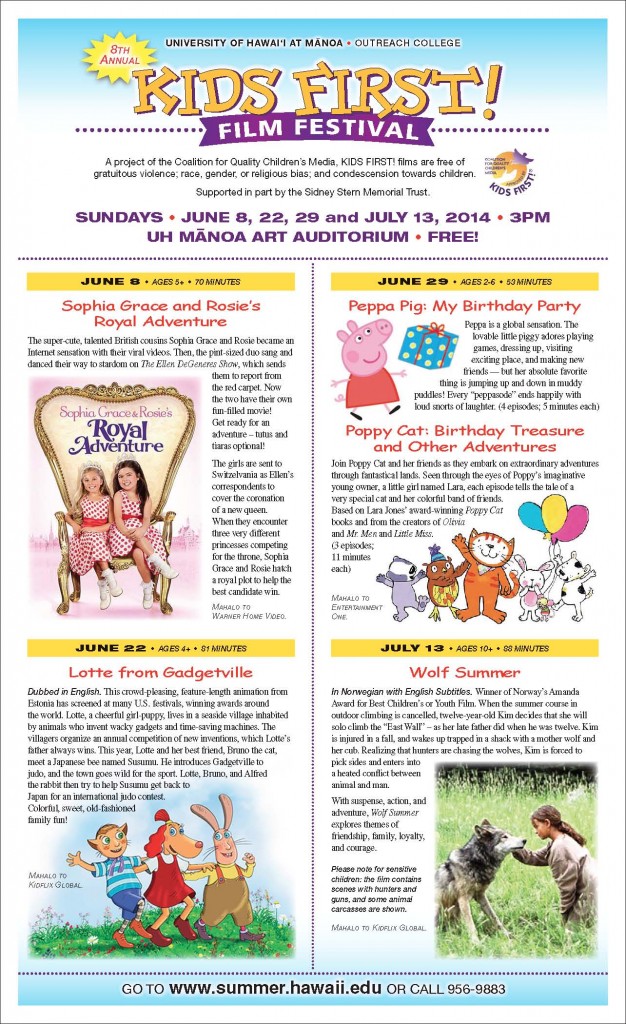 By Staff Reports
(Oahu)- It's the eighth year (already!) of the award-winning UH Manoa KIDS FIRST! Film Festival, presented by Outreach College. KIDS FIRST! gives young people the excitement and thrill of attending a film festival just for them, at an affordable price for all of the family—free! And, to add to the festivities, door prizes are awarded at all screenings.
The KIDS FIRST! Film Festival 2014 screens on Sundays, June 8, 22 & 29 and July 13 at 3:00pm in the UH Manoa Art Auditorium (follow the balloons on campus; parking is free on Sundays). For complete information, visit www.summer.hawaii.edu/kidsfirst or call 956-9883.The UH Manoa KIDS FIRST! Film Festival is supported in part by the Sidney Stern Memorial Trust. Special thanks to Warner Home Video, Kidflix Global, and Entertainment One.
This year's quality films are all about adventure, animals, family, and of course, FUN!
• Screening on June 8, by special arrangement with Warner Home Video, the dynamic duo of Sophia Grace and Rosie in Sophia Grace and Rosie's Royal Adventure. The little cousins – who became fan favorites after their performance of Nicki Menaj's Super Bass on The Ellen Degeneres Show – star in their own adventure flick after numerous appearances on Ellen's show. Here is Ellen premiering the trailer for Sophia Grace and Rosie's Royal Adventure on her show: http://youtu.be/ZP8ZnAIwdA4
• Lotte of Gadgetville, screening on June 22, is the first feature-length animated film from Estonia, and was so popular in its home country, the Estonian government issued a Lotte postage stamp! It's for kids of all age… and is dubbed in English.
• With their simple lines, bright colors, and silly/adorable characters, the Peppa Pig and Poppy Cat animated TV series, originally from Great Britain, appeal to pre-schoolers (older kids and grown-ups very often have a giggle at their antics and adventures as well). The Festival screens several episodes during the [not too big, not too small, just right] program on June 29 to keep the little ones enthralled.
• Films from Norway have received numerous Oscar nominations, and their films for children are also notable for their excellence. Though shot with a Norwegian cast and crew, Wolf Summer, for the older set, was filmed in the U.S., where American animal trainers were capable of working with real wolves. Screening on July 13, in Norwegian with English subtitles, the film won Norway's Amanda Award for Best Children's or Youth Film.
The KIDS FIRST! FIlm Festival, a project of the Coalition for Quality Children's Media, partners each year with over 150 venues nationwide, reaching an audience of more than one million people, making it the largest kids' film festival in the world. Curated locally by UH Manoa's Outreach College to appeal to Hawai'i audiences, KIDS FIRST! films are free of gratuitous violence; race, gender, or religious bias; inappropriate content; and condescension towards children. Age-appropriate groupings of films entertain through a balance of animation and live action, plus varied themes from different cultures.  Parents, grandparents, friends and neighborhood kids — everyone can enjoy the films because they're juried by kids, parents, teachers, and child advocates nationwide to qualify for the Festival.
•  JUNE 8 •  Ages 5+ • 70 min
Sophia Grace and Rosie's Royal Adventure
The super-cute, talented British cousins Sophia Grace and Rosie became an Internet sensation with their viral videos. Then, the pint-sized duo sang and danced their way to stardom on The Ellen DeGeneres Show, which sends them to report from the red carpet. Now the two have their own fun-filled movie! Get ready for an adventure – tutus and tiaras optional!
The girls are sent to Switzelvania as Ellen's correspondents to cover the coronation of a new queen. When they encounter three very different princesses competing for the throne, Sophia Grace and Rosie hatch a royal plot to help the best candidate win. Mahalo to Warner Home Video.
•  JUNE 22 • Ages 4+ • 81 min
Lotte from Gadgetville
Dubbed in English. This crowd-pleasing, feature-length animation from Estonia has screened at many U.S. festivals, winning awards around the world. Lotte, a cheerful girl-puppy, lives in a seaside village inhabited by animals who invent wacky gadgets and time-saving machines. The villagers organize an annual competition of new inventions, which Lotte's father always wins. This year, Lotte and her best friend, Bruno the cat, meet a Japanese bee named Susumu. He introduces Gadgetville to judo, and the town goes wild for the sport. Lotte, Bruno, and Alfred the rabbit then try to help Susumu get back to Japan for an international judo contest. Colorful, sweet, old-fashioned family fun! Mahalo to Kidflix Global.
•  JUNE 29 • Ages 2-6 • 53 min
Peppa Pig: My Birthday Party
Peppa is a global sensation. The lovable little piggy adores playing games, dressing up, visiting exciting places and making new friends — but her absolute favorite thing is jumping up and down in muddy puddles!  Every "peppasode" ends happily with loud snorts of laughter. (4 episodes; 5 minutes each)
Poppy Cat: Birthday Treasure And Other Adventures
Join Poppy Cat and her friends as they embark on extraordinary adventures through fantastical lands.  Seen through the eyes of Poppy's imaginative young owner, a little girl named Lara, each episode tells the tale of a very special cat and her colorful band of friends. Based on Lara Jones' award-winning Poppy Cat books and from the creators of Olivia and Mr. Men and Little Miss. (3 episodes; 11 minutes each) Mahalo to Entertainment One.
•  JULY 13 • Ages 10+ • 88 min
Wolf Summer