By Staff Reports
(Honolulu)– Hawaiian Host®, the leader in premium chocolate-covered macadamias, is proud to present its brand new line of Snoopy edition products, which will be exclusively available this March in travel retail shops T Galleria by DFS, Hawaii and DFS, Hawaii Daniel K. Inouye International Airport. This latest collection comprises both creamy milk chocolate as well as rich dark chocolate covered macadamias — all artfully packaged in playful Snoopy-themed designs. Snoopy and Peanuts fans will love the thoughtfully created illustrations which feature Snoopy "living aloha," from images of him driving with the top down with sidekick Woodstock to trying to catch a wave on his surfboard.
"Expanding our licensed portfolio with the new Snoopy designs has been one of those projects you can really enjoy and have fun with," says Theresa Tuxhorn, Director of Global Marketing for Hawaiian Host. "We combined our signature product with carefully chosen illustrations to create a light-hearted gift from Hawai'i that not only tastes delicious but also appeals to customers of all ages because of its fun designs."
Snoopy and the rest of the Peanuts gang have been fan favorites since the Peanuts comic strip premiered in seven U.S. newspapers in 1950. Whether he's being his loveable self or portraying his Joe Cool persona, the beloved beagle has made his way into becoming a pop-culture icon. And thanks to Hawaiian Host, travelers can take a box of these delightful chocolate-covered macadamias back with them as gifts and souvenirs. Boxes are available in various sizes as well as in multipacks. To celebrate the launch, DFS Hawaii shoppers have a chance to take home a limited-edition Snoopy tote with purchase (promotion subject to change).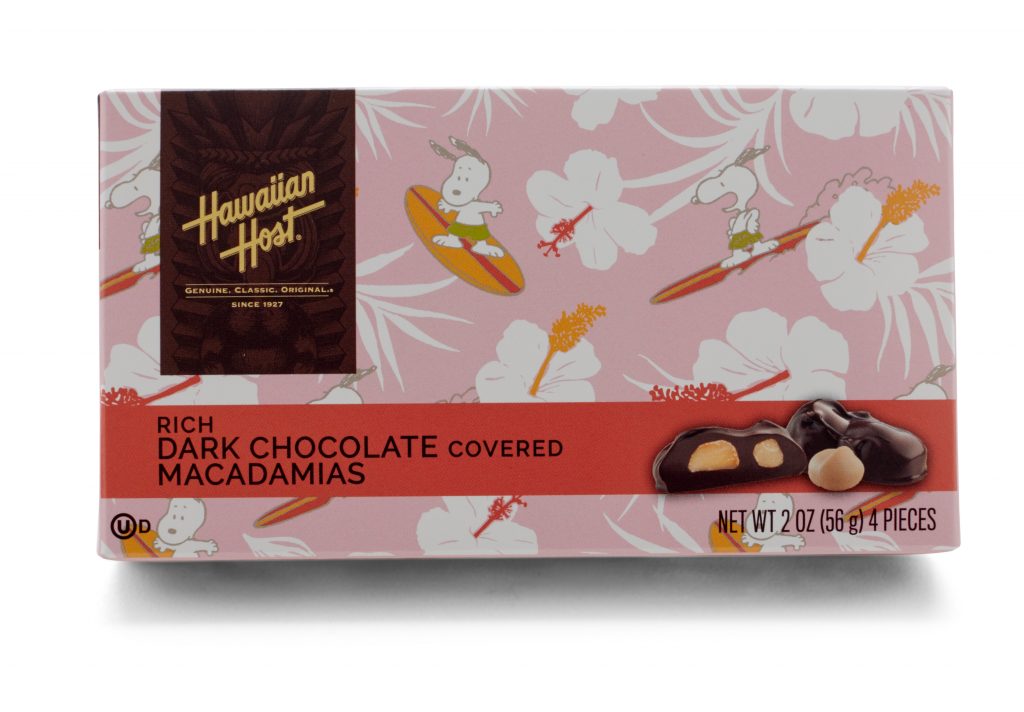 About Peanuts
Charles M. Schulz first introduced the world to the Peanuts characters in 1950, when the Peanuts comic strip debuted in seven newspapers. Since then, Charlie Brown, Snoopy and the rest of the Peanuts gang have made an indelible mark on popular culture. The new series Snoopy in Space launched on AppleTV+ on November 1, 2019. Peanuts animated specials and series air on major networks and streaming services, including ABC, Cartoon Network and Boomerang in the U.S., Family Channel in Canada, and the WildBrain Spark network on YouTube. Fans also enjoy Peanuts through thousands of consumer products around the world, amusement parks attractions, cultural events, social media, and a daily comic strip available in all formats from traditional to digital. In 2018, Peanuts partnered with NASA on a multi-year Space Act Agreement designed to inspire a passion for space exploration and STEM among the next generation of students. The Peanuts characters and related intellectual property are 41% owned by WildBrain Ltd. (TSX: WILD), 39% owned by Sony Music Entertainment (Japan) Inc., and 20% owned by family of Charles M. Schulz.
About Hawaiian Host
What started as an attic experiment in his parents' home on Maui grew into the beloved Hawai'i-based confectionery brand that it is today. Founder Mamoru Takitani's dream of creating a world-famous candy came true thanks to his pioneering spirit and enviable tenacity. Renowned for providing an authentic chocolate and macadamia nut experience, the iconic Hawai'i company has been offering a variety of high-quality, delicious products since 1927. Headquartered in Honolulu, Hawaiian Host spreads the spirit of the Islands throughout the globe via its wide assortment of premium chocolate and macadamia nut selections. For more information on Hawaiian Host, visit hawaiianhost.com.