By Staff Reports
(Oahu)– Two of the 2015 Honolulu Star-Advertiser's Hawaii's Best Awards were awarded to Leeward Community College in the 2015 competition. The readers selected Leeward Community College as Hawaii's Best Career and Technical Education for 2015 and Leeward Theatre as second place in Live Theatre category. It's the first time a UH community college garnered two awards in one year.
Chancellor Manny Cabral received the First Place plaque at the Star Advertiser's Hawaii's Best Award celebration on Monday, June 22 at the Pacific Club. Cabral stated, "I'm so excited to see this recognition for our career programs, both credit and non-credit. Our workforce development continues to expand in both areas. Being selected as Hawaii's Best is a reflection of the dedication and hard work of everyone at the College. We're also thrilled for the second place award for our Theatre, which has finally received funding for a long-awaited renovation."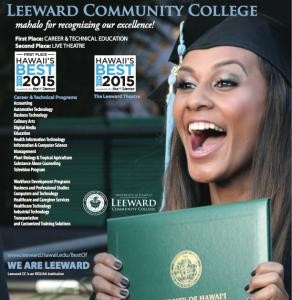 Dean of Leeward's Career & Technical Education, Ron Umehira, also stated, "A sincere mahalo to everyone that voted for our credit and non-credit career and technical programs and our theater.  We are all very proud and humbled of this recognition and will continue to do our best to meet the interests and needs of our students and community."
Leeward's Career & Technical Programs include accounting, automotive technology, business technology, culinary arts, digital media, education, health information technology, information & computer science, management, plant biology & tropical agriculture, substance abuse counseling, and television program on the credit side and business and professional studies, computers and technology, healthcare and caregiver services, healthcare technology, industrial technology, transportation and customized training solutions offered as non-credit.
Credit programs: http://www.leeward.hawaii.edu/cte-programs
Non-credit programs: http://www.ocewd.org
Leeward Theatre: http://lcctheatre.hawaii.edu