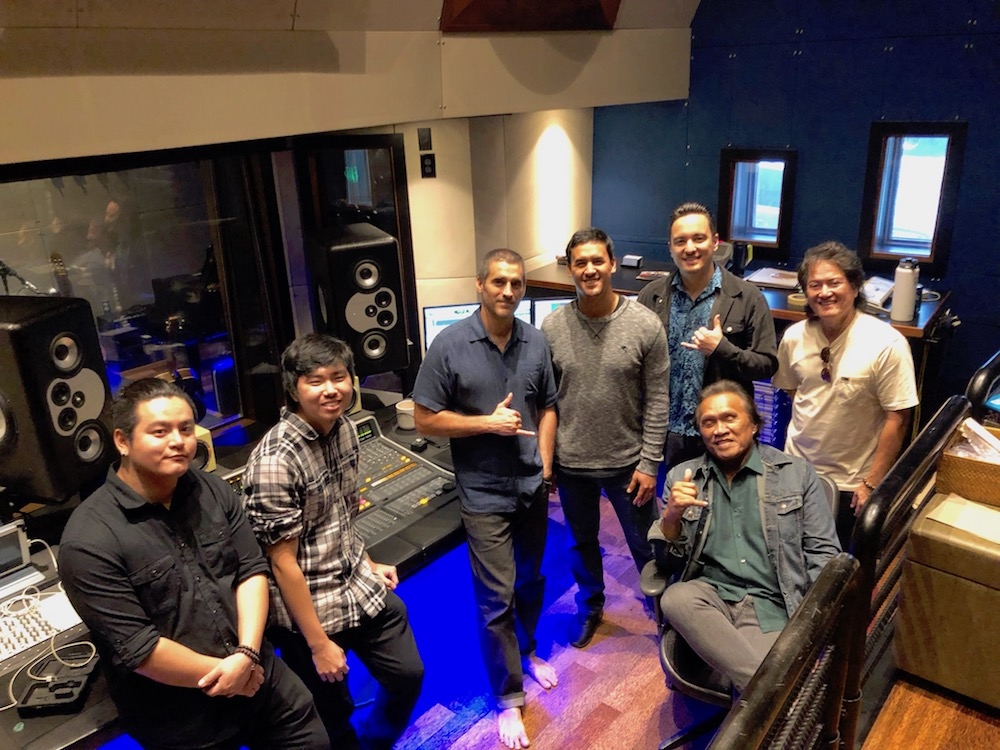 By Staff Reports
(Honolulu)– Grammy nominated and award-winning entertainer Henry Kapono today announced the establishment of the Henry Kapono Foundation (HKF). After a lifetime of support for local causes, Henry has created an organization whose mission is "to support and strengthen our community through music and the arts, and by giving with Aloha."The HKF will support local communities with a primary focus on local arts, culture and music.
"I am truly grateful for the love and support I've had through the years. And even more grateful that I can give back to Hawai`i and future generations, I am truly blessed. Mahalo!" Henry Kapono.
The first project for the HKF is "The Songs of C&K" Recording Project, being produced in partnership with First Hawaiian Bank. "The Songs of C&K" music release will be available in CD with digital download, and in vinyl format, available for sale exclusively at First Hawaiian Bank branches throughout Hawai`i, Guam and Saipan in July 2018, with the net proceeds benefiting the HKF.
First Hawaiian Bank has a long tradition of supporting the Arts and Culture in the community including the creation of a special art gallery by The Honolulu Museum of Art inside its downtown Main Banking Center featuring rotating exhibits which are free and open to the public. The partnership with the Henry Kapono Foundation is another way the bank is continuing this tradition of supporting the arts through music.
"This unique opportunity to partner with Henry Kapono came about as we were looking for a special way to celebrate our bank's 160thanniversary this year," said Bob Harrison, First Hawaiian Bank chairman and CEO. "Through this CD and the concert we are helping to showcase the incredible depth of talent that we have in Hawai`i. These ten artists singing their favorite C&K songs will create timeless classics for a whole new generation to enjoy. We are pleased to also be presenting the concert in support of Henry and the many musicians joining him."
About the Album
On the 45thanniversary of the legendary group C&K, the recording will feature timeless classics from Henry's career, which have become anthems for the people of Hawai`i, a veritable soundtrack for local life over the last four decades. The project features Henry Kapono reimagining his most iconic song's in collaboration with ten of Hawai`i's next generation of rising local musicians.
ALX KAWAKAMI
Sunflower
BLAYNE ASING
Railway Stations
JOSH TATOFI
About You
KALANI PE`A
All In Love Is Fair
KIMIÉ MINER
Highway In The Sun
LANDON MCNAMARA
Good Times Together
MIKE LOVE
Lifetime Party
PAULA FUGA
Song For Someone
STARR KALAHIKI
You and Me
TAVANA
Home
About the Partnership
Henry Kapono and his wife Lezlee Ka`aihue have been banking with First Hawaiian Bank since 1982. They had just opened Kapono's at Aloha Tower Marketplace in 2001 when the September 11thtragedy occurred.  Faced with many financial challenges, they began working closely with their First Hawaiian Bank personal banker on a financial plan that helped them overcome these obstacles and allowed their business to become fiscally viable. A lifelong relationship was forged, leading eventually to this unique partnership with First Hawaiian Bank and the CD release of "The Songs of C&K" to benefit the Henry Kapono Foundation.
About the Concert Series
The CD release and partnership with First Hawaiian Bank will culminate in the 3rdHenry Kapono & Friends concert at the Waikiki Shell on Saturday, August 25, 2018. Henry and a star-studded line up of Hawai`i's most popular entertainers will once again grace the stage with an evening of music, laughter and stories as they share the hit songs everyone knows and loves. Tickets go on sale in June and will be available at www.ticketmaster.com. An additional show in Maui is in production with details soon to be released.
About Henry Kapono
Native Hawaiian, Henry Kapono, is a Grammy nominated and multiple award-winning vocalist, guitarist, songwriter, and composer. Henry is one of Hawai`i's most popular local recording artists and is equally known for his community support and philanthropic endeavors.
About the Henry Kapono Foundation
In addition to giving to the community with Aloha, the Henry Kapono Foundation will strive to perpetuate and bolster Hawai`i's music by sharing and instilling the joy of music throughout the community, foster and guide Hawai`i's musicians, and help to make and keep music an integral part of public school curriculum. The HKF will be, share and teach Aloha through music, all while exuding FUN. For more information visit www.henrykaponofoundation.org.
About First Hawaiian Bank
First Hawaiian Bank (www.FHB.com) was founded in 1858 as Bishop & Co. and today is Hawai`i's leading bank offering a comprehensive suite of banking services to consumer and commercial customers, including deposit products, loans, wealth management, insurance, private banking and trust services.  The bank operates 56 branches in Hawai`i, three on Guam and two on Saipan.  First Hawaiian, Inc. (NASDAQ:  FHB), the parent company of First Hawaiian Bank, is the largest publicly traded company based in Hawai`i.