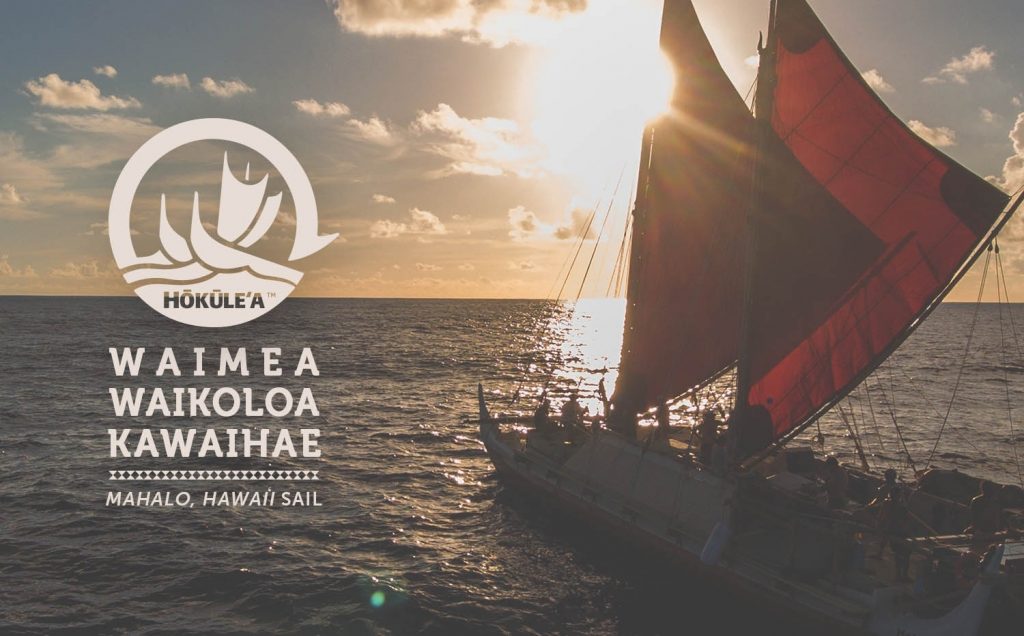 By Staff Reports
(Honolulu)– For the first time since bidding the famed Polynesian voyaging canoe farewell before departing Hilo in May 2014 for the three-year Malama Honua Worldwide Voyage, Hawaiʻi Island residents will have the opportunity to see and  engage with Hōkūleʻa and her crew. During the March through May visit, isle residents can expect crew presentations and talk story sessions, open house canoe tours, volunteer stewardship opportunities and other family-friendly events, all free to the public.
The Polynesian Voyaging Society (PVS) will also be engaging thousands of public and private school students with canoe visits and hands-on educational activities custom tailored to every age that highlight wayfinding and voyaging through the lenses of math, science, conservation and culture.
Hōkūleʻa is set to sail from PVS headquarters in Sand Island, Honolulu, to Hawaiʻi Island as early as Thursday, March 22, depending on weather conditions. The first stop will be Miloliʻi where the canoe is expected to make her arrival on Sunday, March 25. The following day, Hōkūleʻa is scheduled to depart for Kona where she will be moored through the end of March. Through the month of April, the canoe will be in Hilo and finally in Kawaihae through the first week in May, after which time the canoe and crew will return to Oʻahu.  Stay tuned for a detailed list of events and specific dates to be released by PVS as soon as details are confirmed. The Hawaiʻi Island visit is an official stop on Hōkūleʻa's Mahalo, Hawaiʻi Sail.
"When we set out to accomplish the impossible in 2014 by sailing around this island Earth, our Hawaiʻi Island communities supported us completely so that we could succeed," said PVS president Nainoa Thompson. "To go back and say thank you by sharing and inspiring island youth – our next generation of voyagers – that is the best mahalo and investment in our future that I can think of."
About the Mahalo, Hawaiʻi Sail
The Mahalo, Hawaiʻi Sail will give PVS an opportunity to thank Hawaiʻi's people, bring Hōkūleʻa and Hikianalia home to all of Hawaiʻi, share lessons learned from the Mālama Honua Worldwide Voyage and deepen the organization's connection and understanding of the important work being done here in the islands to care for the earth. During the port visits, PVS will engage with schools and organizations through outreach events, service projects, crew presentations and canoe tours.
About Polynesian Voyaging Society
The Polynesian Voyaging Society was founded in 1973 on a legacy of Pacific Ocean exploration, seeking to perpetuate the art and science of traditional Polynesian voyaging and the spirit of exploration through experiential educational programs that inspire students and their communities to respect and care for themselves, one another, and their natural and cultural environments. For more information about the Polynesian Voyaging Society and the Worldwide Voyage, visit www.hokulea.com or find us on Facebook, Twitter, Instagram, and YouTube.