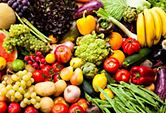 By Staff Reports
(Honolulu)– From the U.S. Department of Health and Human Services, I'm Nicholas Garlow with HHS HealthBeat.
One in 6 people will get a foodborne illness this year. A new study at the Centers for Disease Control and Prevention looked at which foods are more likely to make us sick. Produce accounted for nearly half of all illnesses. Poultry and meat accounted for the most deaths.
Dr. John Painter is an epidemiologist at the CDC.
"Keep eating your vegetables. As it turns out, many foodborne illnesses are attributed to vegetables, but one reason for that is we eat so many of them."
Contamination of food can occur anywhere from the farm to the table. But you can protect yourself by taking these steps: Wash your hands and food prep surfaces. Separate raw meat, poultry, seafood, and eggs from foods that will not be cooked. Cook and chill foods to proper temperatures.
Learn more at foodsafety.gov.