By Staff Reports
(Hawaii)– With a goal to reduce energy consumption and educate residents about the advantages of brand-new ENERGY STAR® appliances, Makaha Learning Center and Hawai'i Energy, recently kicked off the 2023 edition of the Appliance Trade-Up program in Wai'anae, which allows residents to exchange their old, working refrigerators and/or freezers for brand-new ENERGY STAR® certified ones.
The Wai'anae-centric program was a resounding success in 2022, with over 149 new appliances provided to 119 families in Wai'anae to help them offset their energy costs. The 2023 program application deadline has been extended until March, 15th, 2023.
"The Appliance Trade-Up program is a partnership we are grateful to have with Hawai'i Energy and share with our Wai'anae Coast residents," Makaha Learning Center President, Daniellle "Duckie" Irwin explained. "This is a much-needed program that offers an opportunity to trade up for subsidized appliances to families, who otherwise would face financial difficulties," Irwin added.
Through Hawai'i Energy's appliance trade-up program, residents are eligible to receive a brand-new ENERGY STAR® certified refrigerator and/or freezer for as little as $250 in exchange for their old, working unit(s). Hawai'i Energy also offers free delivery and haul-away of old units.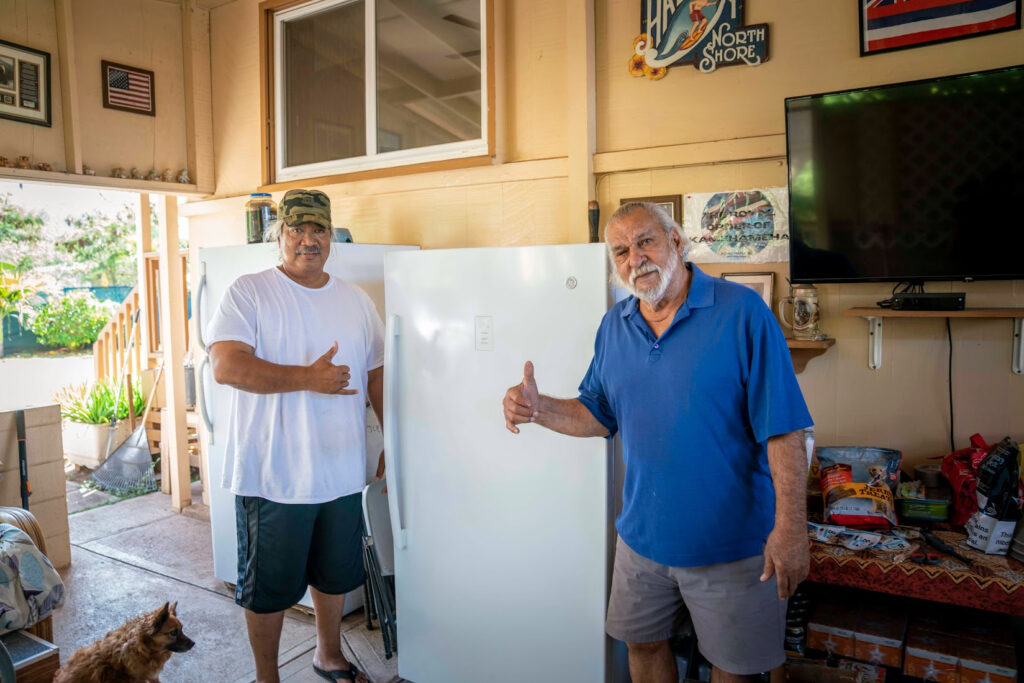 Caroline Carl, executive director of Hawai'i Energy, said, "Our goal at Hawai'i Energy is to help Hawaii residents save energy and money by making small changes in their homes, such as switching to LED lighting, using advanced power strips, upgrading to ENERGY STAR® certified appliances, and more. Upgrading to a similar energy-efficient model can reduce electricity costs by as much as 50%."
Retired veteran Joseph Jerviss, a 12-year resident of Wai'anae, participated in the program and received his brand-new freezer five months ago. Since then, Jerviss' electricity bill has decreased by approximately $20 a month. "I am very pleased with the product and what Hawai'i Energy has done for me and my household," Jerviss said. "This is a fantastic program that is helping our community."
Hawai'i Energy is the state's Public Benefits Fee Administrator that focuses on energy-efficiency education and clean-energy initiatives. Since 2019, the program has completed appliance trade-ups in various communities throughout the state, including Kohala, Puna, Ko'olauloa, Hāna, Wai'anae, and on Molokai.
For more information and program updates, please visit: www.HawaiiEnergy.com/Waianae