By Staff Reports
(Wahiawa)—To kick off 2023, a group of students from Kamalani Academy's Olelo Media Program made their way to the State Capitol to witness the opening session of the Hawai'i legislature. The students were excited to have the opportunity to  interview and witness firsthand the workings of their local/state government and to see their elected officials in action.
The Kamalani delegation was welcomed warmly by the legislators, and they were given a tour of the capitol building and even got the chance to interview local lawmakers on issues currently affecting our community and our island. "Our students were enriched by this experience because they prepared and researched topics of discussion affecting our state. They showed great application and commitment to their craft for Olelo Media," Kamalani Principal, Amanda Fung said.
The students were also amazed to see the intricate details of the building, from the ornate wooden doors and native art that adorns the offices and halls of the State Capitol. They were also able to observe the proceedings of the legislature from the galleries, and they were able to witness the debates and votes that took place.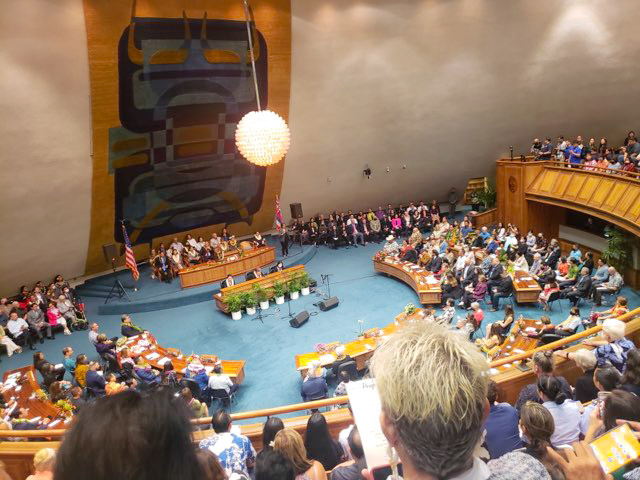 The young pupils also had the opportunity to meet with some of their elected officials. They asked questions about the legislative process, and the legislators gave them insight into the inner workings of the legislature. The students were able to gain a better understanding of how laws are made and how their elected officials represent them.
The experience was an invaluable one for the students. Not only did they gain a better understanding of how their government works, but they were also able to conduct interviews with powerful figures such as Governor Dr. Josh Green and legislator Donovan Dela Cruz. It was surely an eye-opening experience that they will never forget.
The visit to the State Capitol was also a valuable learning experience for the students of Kamalani Academy. They gained a greater understanding of how their government works, and they were able to see their elected officials in action.
True to its mission to work with local organizations, Kamalani Academy continues the 2022-2023 academic year with its long tradition of giving back to its community.
"Our philosophy is to lift others in the community. When we lift others we teach valuable life lessons for our students and that is part of our mission at Kamalani Academy," Fung added.