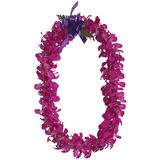 By Staff Reports
(Honolulu)– The Department of Parks and Recreation (DPR) announces that Lei Day lei contest rules are now available to the public and may be downloaded from DPR's website, www.honoluluparks.com, or received by mail.
The public may sharpen their lei making skills by participating in DPR's free lei making workshops.  The schedule is also available on DPR's website.  The first lei making workshop begins on Saturday, March 31.
The theme for the 2012 Lei Day Celebration at the Queen Kapi'olani Regional Park and Bandstand is Lei U'i Onaona (Sweet Lei of Youth).  There are three lei contests this year:  Hawaiian lei, youth lei, and lei lipine (ribbon, fabric, yarn lei).  The material selected for the theme lei, one of the categories of the Hawaiian lei contest, is pîkake and/or pakalana.
The deadline to submit the lei lipine entries is Saturday, April 21, from 9:00 to 10:30 a.m., at the Makiki District Park parking lot, 1527 Ke'eaumoku Street.  Lei received after 10:30 a.m. may be displayed but will not be eligible for prizes.  No lei lipine entries will be accepted on May 1.
The lei contest exhibit will be open to the public on May 1, from 1:00 to 5:30 p.m., in the area between the bandstand and the Waikîkî Shell.  The exhibit boasts some of the most exquisitely crafted lei in a variety of colors and methods.
The celebration is presented by the City and County of Honolulu's Department of Parks and Recreation, and sponsored by Hawaiian Electric Company, Times Supermarkets, and the Hawai'i Tourism Authority.
For more information about the 85th Annual Lei Day Celebration, visit www.honoluluparks.com or call the Parks Department at 768-3041.