By Staff Reports
(Honolulu)– St. Andrew's Priory for Girls sixth grader Jemma Stollberg will compete with private and public school students from 41 schools from around the state at the National Geographic Hawaii State Bee (GeoBee), April 1, 2016 at the Blaisdell Center. To get this far, fourth to eight graders from around the country had to correctly answer questions like:
What large city is Valley Forge National Historical Park is located near?
A New Year's celebration known as Nowruz takes place in several countries, including an Asian country that borders the Caspian Sea and the Gulf of Oman. Name this country.
To fish in Lake Winnipesaukee [wi-neh-peh-SAW-kee] and ski near Franconia Notch, you would travel to which state—New Hampshire or South Dakota?
Each year thousands of U.S. schools participate in the National Geographic Bee using materials prepared by the National Geographic Society. The contest is designed to inspire students to be curious about the world. Schools with students in grades four through eight are eligible for this entertaining and challenging competition.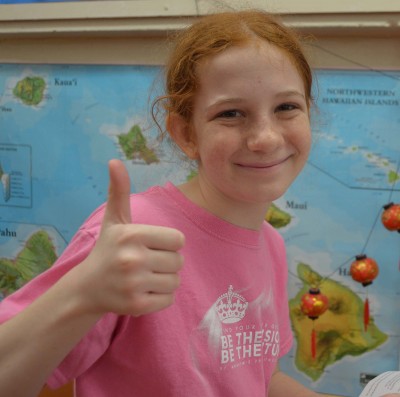 Jemma plans to prepare for the State GeoBee by revisiting her world map and reviewing a few geography resources. Her goal is simply to advance.
State champions receive $100, the National Geographic book "The National Parks: An Illustrated History" and a medal, and will journey to Washington, D.C., to represent their state in the National Geographic Bee Championship at National Geographic Society headquarters, May. The national champion will receive a $50,000 college scholarship and lifetime membership in the National Geographic Society. The national champion will also travel (along with one parent or guardian), all expenses paid, on a Lindblad expedition to Southeast Alaska aboard National Geographic Sea Lion, including Glacier Bay National Park, in recognition of the 100th anniversary of the National Park Service.