By Staff Reports
(Honolulu) — Kaiser Permanente Hawaii and American Medical Response (AMR) today announced the joint donation of cutting-edge neonatal transport equipment, known as the Airborne® Voyager incubator, to Kapiolani Health Foundation, which supports the charitable mission of Kapiolani Medical Center for Women & Children. The NICU equipment, a versatile incubator designed by International Biomedical® for stable air or ground travel, will transport an estimated 40 newborn patients per year from the neighbor islands to Oahu.
AMR Air currently provides inter-island medical transport via fixed-wing aircraft to adult and pediatric patients within the state. The $186,000 infant incubator and supporting equipment will be placed in service this month, making it possible for neonatal patients to safely travel to Oahu for specialized care.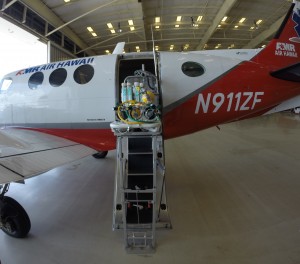 "As you can imagine, transporting sick newborns is a very delicate process," said Lois Chiu, MD, chief of neonatology at Kaiser Permanente's Moanalua Medical Center. "This new equipment will be critical in the safe transport of our most fragile and precious patients. We are thankful for the opportunity to partner with AMR and Kapiolani Health Foundation to extend this service to neighbor island families."
"We are very pleased to be able to provide this state-of-the-art neonatal equipment to the community, so more children have safe access to the care they need," said Speedy Bailey, general manager of American Medical Response (AMR) Hawaii.
Medical care during transport for neonatal patients from the neighbor islands is provided by the Critical Care Transport team based at Kapiolani Medical Center for Women & Children. Approximately 30 fragile newborns were transported to the intensive care unit at Kaiser Permanente's Moanalua Medical Center last year.
About Kaiser Permanente
Kaiser Permanente Hawaii has provided total health to the people of Hawaii for more than 50 years, with physicians who are members of the Hawaii Permanente Medical Group, the largest multi-specialty physician group practice in the state of Hawaii. Kaiser Permanente is dedicated to care innovations, clinical research, health education, and the support of community health. Visit kp.org for additional information. Become a fan of good health with Kaiser Permanente Hawaii: Like our page at Facebook.com/KPHawaii and follow @KPHawaii on Twitter.