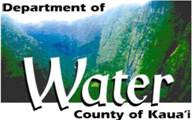 By Staff Reports
(WAILUA) – A portion of Kûhi'ô Highway's southbound contra-flow lane fronting Coconut Marketplace will be closed on Wednesday, Oct. 9 from 8 a.m. to 3:30 p.m., weather permitting.
The closure will allow the Department of Water to repave a section of the road where a water main break occurred last month.
Traffic control will be in place while the work is being done.
Motorists are advised to allow extra travel time and to use the Kapa'a bypass road as an alternate route.
For more information please call the Department of Water at 245-5455 during business hours, 7:45 a.m. to 4:30 p.m. For emergencies after hours, call Police Dispatch at 241-1711.