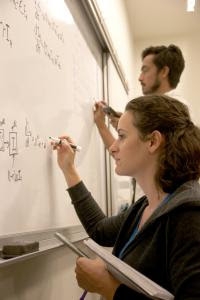 By Staff Reports
(Oahu)– UH West Oʻahu will expand its academic offerings for the Fall 2018 semester with the addition of two new degree concentrations and a new certificate program to meet student and community needs.
The University, ranked as the fastest-growing public baccalaureate college in a Chronicle of Higher Education, will add a Bachelor of Arts in Public Administration with a concentration in Community Health and a Bachelor of Arts in Humanities with a concentration in Mathematics. It will also debut a Certificate in Music.
UH West Oʻahu will have 35 degree concentrationsand seven certificate programswith the additions. The enhancement of academic programs is consistent with UH West Oʻahu's offering of distinctive concentrations that emphasize practical applications and those that embrace innovation while providing needed technical and management skills required by an evolving workforce.
The new Community Health concentration is geared to the educational needs of community health workers, health education specialists, working health care professionals and distance learners interested in health education-related careers. The concentration will also address a need for health care workers who can help improve health in communities by getting people to adopt healthy behaviors and implementing community programs for health organizations.
Community Health may be suitable for those interested in future careers in nursing, medicine, research and biomedical related fields. The concentration prepares students for professional schools such as medical school, physician assistant school, nursing school, and graduate public health programs.
"A balanced geographic distribution of healthcare providers is needed now more than ever to deliver preventative healthcare information to those who need it," said Camonia Graham-Tutt, an assistant professor of community health and faculty contact for the new concentration.
"Community health educators meet the demand for trained and potentially licensed health education specialists who deliver education on preventative care."
The Bachelor of Arts in Humanities with a concentration in Mathematics is designed for students interested in careers requiring a strong foundation in mathematics, or someone needing a mathematics background for their graduate school studies. It includes a foundation in the liberal arts to produce well-rounded graduates capable of bridging technical ability with communications and other skills.
Students completing the program should be able to demonstrate the following knowledge and skills:
General understanding of different areas of Mathematics and its applications.
Use classical theorem-proving skills.
A refined understanding of the problem-solving process.
Experience with mathematically related material including research, reading, writing and articulating.
Working knowledge of technology appropriate to the field.
Skills to solve problems using a variety of techniques, including algebraic, numerical, and spatial reasoning through visualization.
The Certificate in Music will give Leeward and Central Oʻahu students another choice for college-level music education while amplifying the campus' offerings and contributing to the region's cultural heritage and enhancing student's music-making skills.
It is hoped the new certificate will also encourage students' musical creativity and expose them to standard technological tools used in the music industry while helping students better understand music's role in the world.
It is believed the certificate will strengthen the campus' liberal arts foundation and perhaps draw students to the school as an attractive alternative for regional students. Moreover, UH West Oʻahu's classes have been created with many of the region's self-taught music students in mind, where the program focuses on the "doing of music" in the early stages of study to make the teaching of theory more impactful.