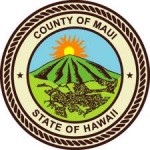 By Staff Reports
(Maui)-– Mayor Alan Arakawa today announced that his one-hour TV show entitled, "Your County with Mayor Arakawa," will be aired live on Akaku Channel 55 on Wednesday, May 1, 2013 at 7 p.m.
Although Mayor Arakawa will be out of town on that date, he will be represented by Managing Director Keith Regan. The show will be moderated by Communications Director Rod Antone and feature Civil Defense Emergency Management Officer Anna Foust as well as special guest Dennis Hwang, a member of the faculty of University of Hawaii's Sea Grant Program with 20 years of experience working in the area of coastal zone management. Hwang is also author of the "Hawaii Coastal Hazard Mitigation Guidebook," a useful read for anyone interested in reducing risk from natural hazards. June marks the beginning of hurricane season, so please tune in to the show as County officials and Dennis Hwang go over some important safety tips residents can follow in order to get ready for the next time Maui County is threatened by another tsunami, hurricane or other emergency event.
As usual, viewers can ask questions live by calling Akaku TV at 873-3430.
The show will re-air on Wednesdays at 7 p.m. on May 8-29 on the same channel.