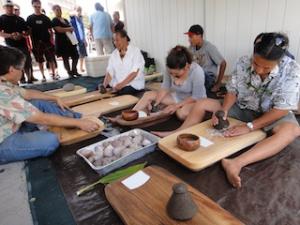 By Staff Repors
(Honolulu) – It has been two years since the start of Ka Māla o Niuhelewai (The Garden of Niuhelewai) and the kalo (taro) is ready for harvest. Honolulu Community College will host a hoʻolauleʻa to celebrate the māla. Everyone is welcome to join the celebration to learn how to pound their own poi, and enjoy the food (until it runs out).
2nd Annual Hoʻolauleʻa
Wednesday, April 17, 2013
11am to 2pm
874 Dillingham Blvd., behind the Children's Center
There will be Hawaiian music and participants will have the opportunity to pound poi using poi boards and stones to ku'i'ai the kalo.
In keeping with the sustainability theme, reusable plates, containers, beverage cups or bottles, and utensils are encouraged to limit the usage of paper goods to alleviate excess trash in the landfill as a part of Honolulu's sustainability efforts to care for the land.
Since July 2011, 20 Hawaiian varieties of kalo have been planted. Throughout the fall and spring semesters, students, campus groups, faculty and staff and community groups have cared for the māla.  On April 17, the fruits of their labor will come full circle once again.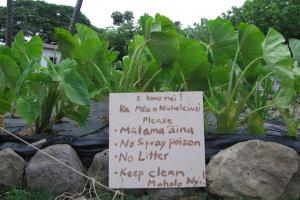 Honolulu Community College received a $25,000 grant from the Office of Hawaiian Affairs to plant Hawaiian varieties of kalo in a dry land māla.  The māla serves as an educational platform to teach students using a traditional Native Hawaiian holistic approach.
The historical land use of the Honolulu Community College campus is thoroughly documented in the Land Court Awards and old maps of the Kalihi-Kapālama area. The campus area alone was home to 45 documented lo'i (taro patches), fed by Niuhelewai Stream and two springs, all of which were diverted and filled in after 1900. The idea of the project is to return a small portion to Hāloanakalaukapalili (first kalo, ancestor) to this 'aina (land), blending the old with the new with the understanding of mālama 'āina, or caring for the land.
The Garden of Niuhelewai, received the Award of Excellence in the Xeriscape category at the 2012 Betty Crocker Landscape Awards.